In the previous tutorial, you learned how to install the Files Cabinet add-on. Here, you'll learn how to use the add-on to display Google Drive contents.
info This article is only for Google users.
1. Initialize the add-on
To start using Files Cabinet, create or open a blank sheet within Google Sheets. Then select Add-ons > Files Cabinet by Awesome Table > Start Listing.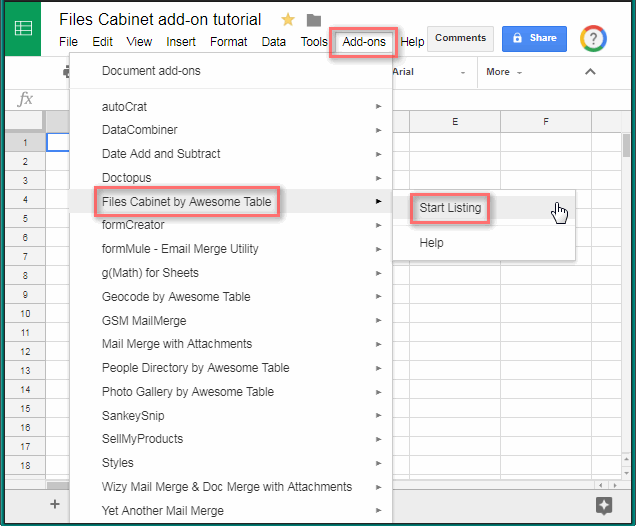 2. Select the target folder
Under Current folder, select Please pick a folder (Pick).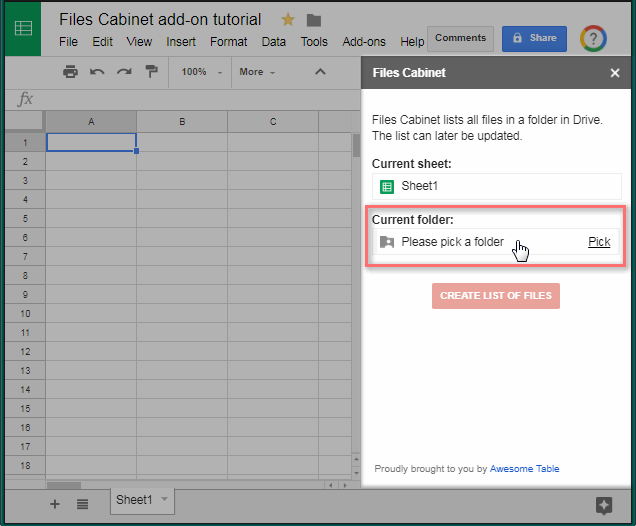 Then choose the target folder that contains the files you want to publish then click Select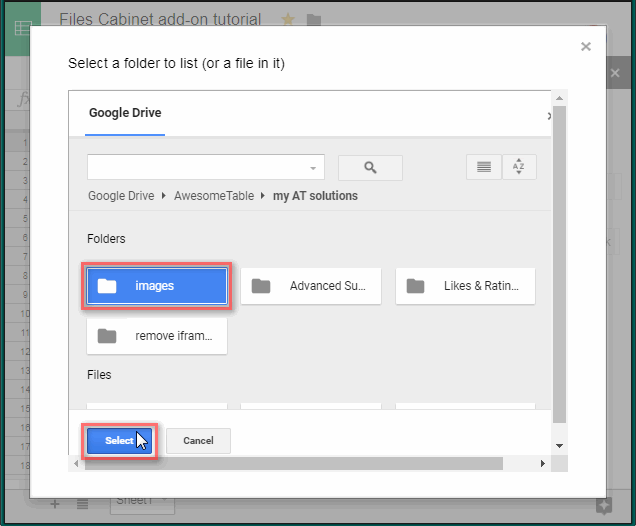 3. Fetch the target folder's content
Click Create List of Files.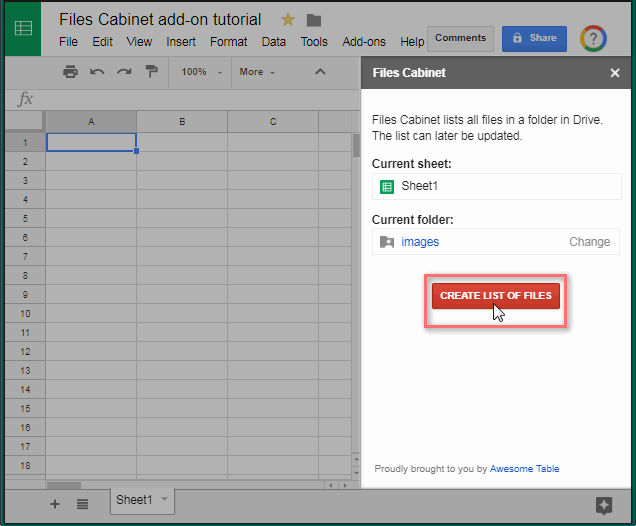 not_interested Do not terminate or close the sidebar while the Files Cabinet script is running.
4. Target folder's content listed
After the script successfully executes, you'll be presented with the automatically-generated datasource.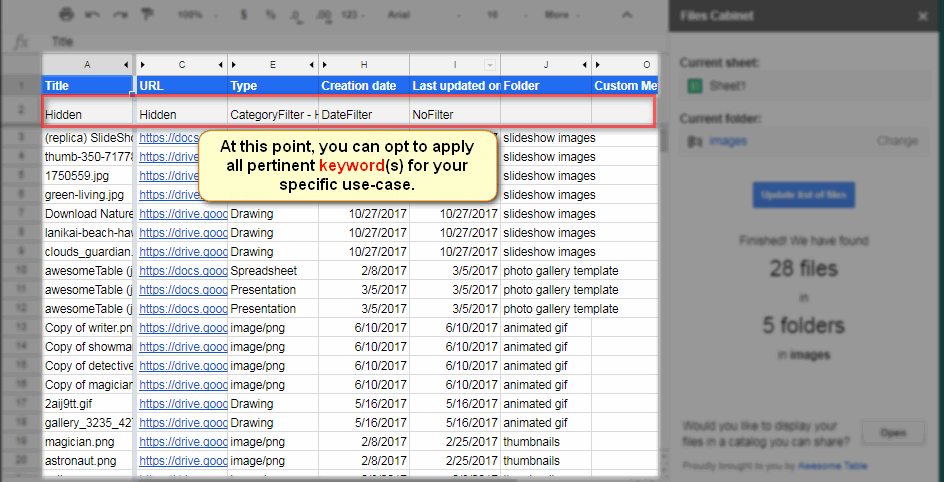 info
Learn more:
Display images from Google Drive
. Choosing the appropriate method will ensure the proper rendering of the images: by using your [1]
Gmail
(personal) or [2] Google Workspace (work) account.
At this point, you could either:
Proceed to Step 7 or
Take the time to apply all pertinent keyword(s) for your specific use-case.
5. Create an Awesome Table app for your target folder's data source
Click the Create button to automatically-generate and direct you to a preconfigured Awesome Table app.
* You can further customize the app according to your specifications. Click here to learn how.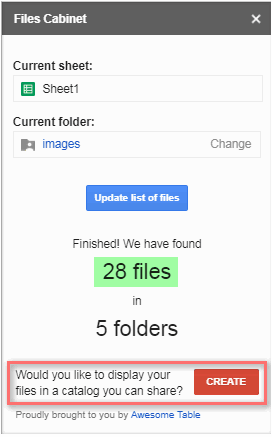 Information about the number of generated folder(s) and files are available in the sidebar.
* Note that there are currently 28 files.
warning
The Files Cabinet add-on doesn't currently support
directories
/
folder hierarchies
. But it will show all contents of the specified folder (and subfolders) with their respective folder-location.
6. Use your own metadata (Optional)
With Files Cabinet, you can even add your own metadata.
infoMetadata: Data that serves to provide context or additional information about other data. For example, information about the title, subject, author, typeface, enhancements, and size of the data file of a document constitute metadata about that document.
Let's say you have a list of PDF invoices, you can add a new column to your spreadsheet with the customer's name for each invoice. Or, if you renamed or added files within the target folder (including files in subfolders), new information like the PDFs title, creation date or last update will be reflected in the datasource (and app) after running the add-on.
warning
If needed, only insert additional column(s)
to the right
of the
Custom Metadata
columns. This way, the values you entered for each file will be retained / untouched even after updating.
Otherwise, if you inserted column(s) anywhere within the automatically-generated columns, the Header & Keyword rows will get overwritten while retaining the metadata values you entered - causing unintended results or conflicts in the published app.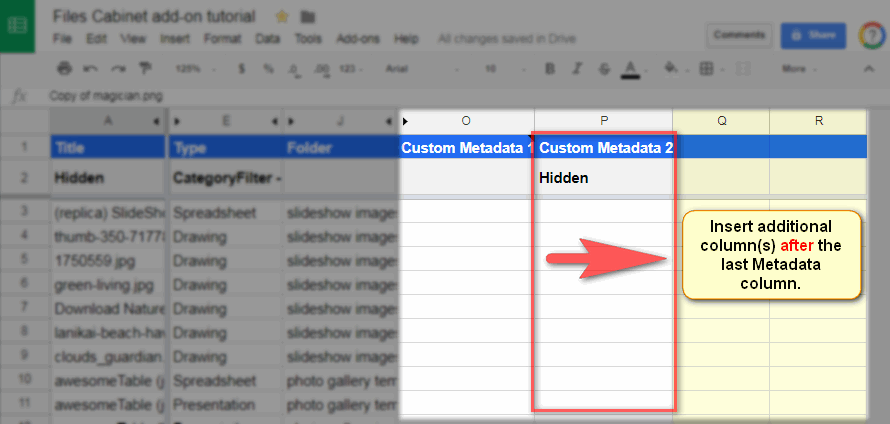 navigate_nextNext article:
In this tutorial, you learned how to use the Files Cabinet add-on to display your Google Drive contents. In the next tutorial, you'll learn how to update your existing datasource and app quickly and easily.