What is a CSS template?
A CSS template contains the styling code (CSS) that gives your Awesome Table view its desired look and layout. Cascading Style Sheets (CSS) allows you to easily customize colors, font, size and placement of elements (headings, paragraphs, images, lists, ...).
warning It is not recommended to use CSS as inline styles within your data sheet for the sake of performance and maintainability. Using CSS templates allows for a complete separation between data and style sheet.
CSS template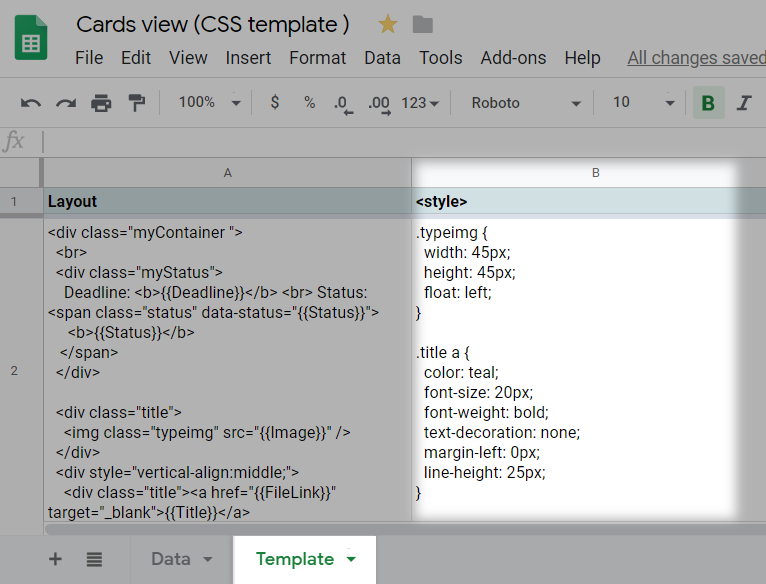 info
The prescribed approach is to split your CSS template into 2 parts:
Data-related static CSS goes in the CSS template.
Filters and global Awesome Table styling goes in the CustomCSS file uploaded to any online host like Google Sites, Weebly, GitHub (but not Google Drive).
This will allow you to make two separate CSS: one for HTML and data-specific content and another for the Awesome Table theme (background color, slider, filters, ...).
Live example:
Create and set up your CSS template
1- Create the template sheet
Click the Add Sheet icon (+) on the bottom-left of the status bar to insert a blank sheet.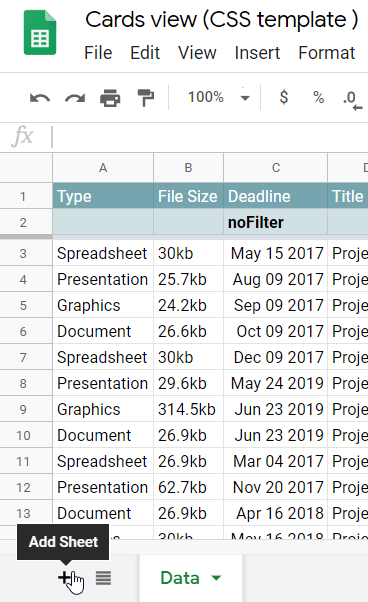 Then rename as needed (Template in our example).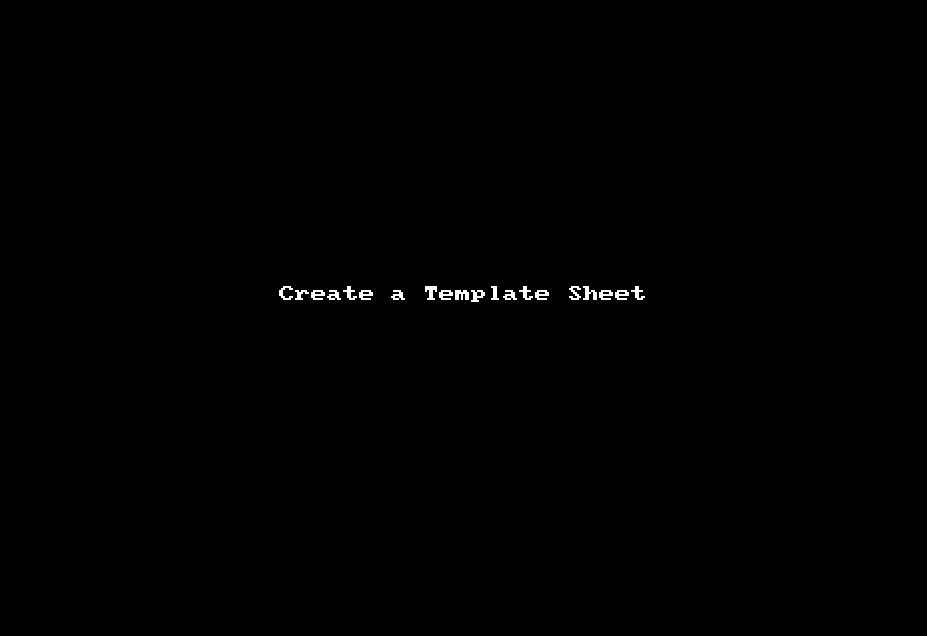 warning
Make sure that the Awesome Table editor's
Template sheet
and
Template
range
fields are
updated
, especially when new columns are added in your template sheet. In our example, the
Template sheet
field should indicate "
Template
" while the
Template range
field should indicate "
A1:B2
". Always click the active
UPDATE VIEW
button for the changes to take effect.
t.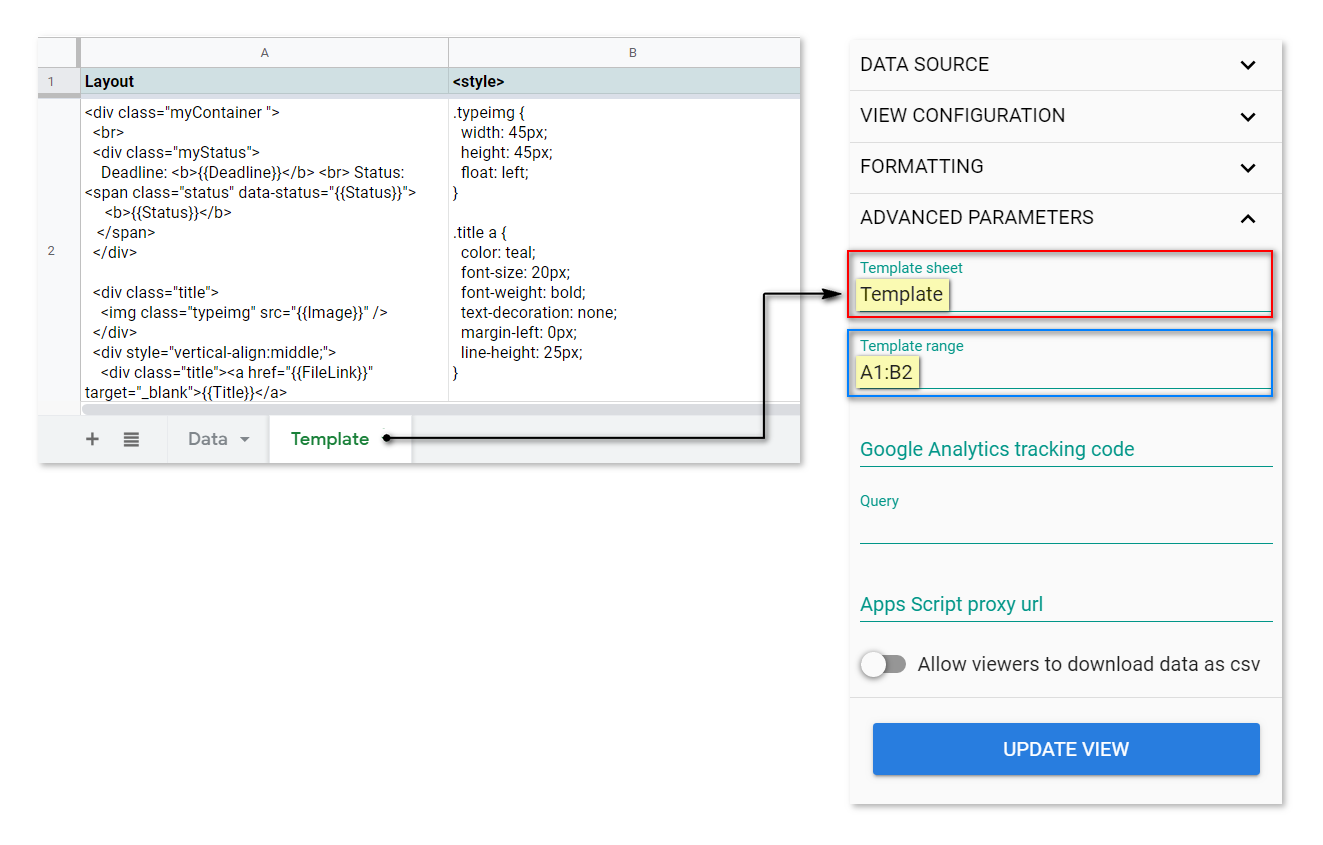 2- Set up the CSS template
Add a new column for the CSS template (label the header <style>).
CSS template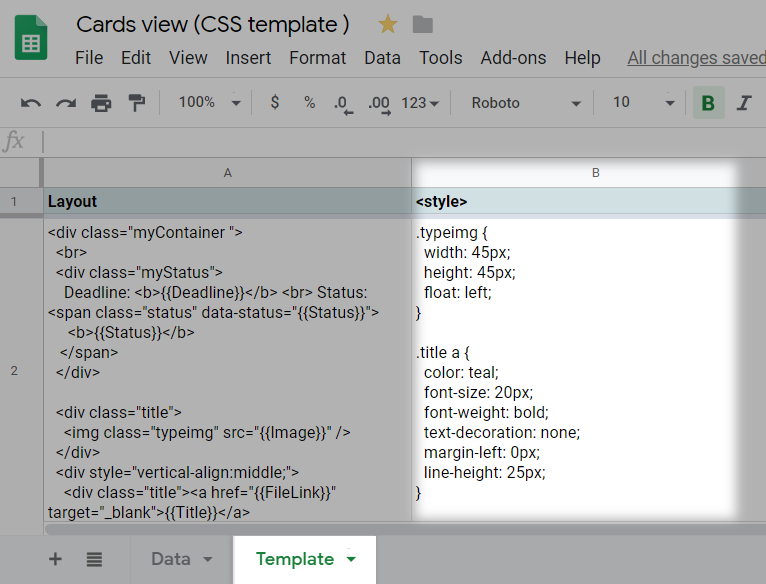 Then paste the CSS code below (cell B2 in our example).
.typeimg {
  width: 45px;
  height: 45px;
  float: left;
}

.title a {
  color: teal;
  font-size: 20px;
  font-weight: bold;
  text-decoration: none;
  margin-left: 0px;
  line-height: 25px;
}

.owner {
  line-height: 20px;
  color: black;
}

.description {
  font-family: "arial", sans-serif;
  text-align: justify;
  font-size: 13px;
}

.myStatus {
  float: right;
  margin-top: 5px;
  margin-bottom: 10px;
}

.myContainer {
  padding: 5px;
  max-width: 500px;
  margin-top: -10px;
  margin-bottom: 5px;
}

The CSS code example above works with the associated HTML code:
<div class="myContainer ">
  <br>
  <div class="myStatus">
    Deadline: <b>{{Deadline}}</b> <br> Status: <span class="status" data-status="{{Status}}">
     <b>{{Status}}</b>
   </span>
  </div>

  <div class="title">
    <img class="typeimg" src="{{Image}}" />
  </div>

  <div style="vertical-align:middle;">
    <div class="title"><a href="{{FileLink}}" target="_blank">{{Title}}</a>
      <div>
        <div class="owner">Owner: <b>{{Owner}}</b>
        </div>
      </div>
    </div>
    <br>
    <hr>
    <br>
    <b>Summary</b>: <br>
    <div class="description">
      {{Description}} <br><br> File Type: <b>{{Type}}</b> &nbsp; ▏Size: <b>{{File Size}}</b> 
&nbsp; ▏Folder: <b>{{Folder}}</b> &nbsp;
    </div>
  </div>