Awesome Table's Advanced Summary view gives you the ability to create interactive dashboards to help you quickly analyze and drill down collected data from Google Forms.
What is an Advanced Summary view?
Our Advanced Summary view helps you analyze data and organize them to create insightful dashboards with a vast variety of charts like pie charts or word clouds. The raw data that will be used can come from manually collected/transcribed records or from responses directly submitted via Google Forms.
Google Forms offers a quick overview of your collected data via the Responses section where it displays summarized graphs and answer items. However, you will often be needing a lot more than quick summaries. Perhaps, you want to create a customized analytics dashboard where you can specify various chart-types and apply different filters so you can further drill down and analyze your data.
This visualization type can be used or applied in: Education for statistics or data visualization lessons, Business for consumer research, Training & Development for analyzing trainer-performance, to name a few.
Live example (Simple dashboard on preferred reading material)
Create an Advanced Summary view
To choose Advanced Summary view within the Awesome Table editor:
Click the sidebar panel's VIEW CONFIGURATION section
Click Visualization type
Select Advanced summary
Click the UPDATE VIEW button for the changes to take effect.
Choosing the Advanced summary view type in the Awesome Table editor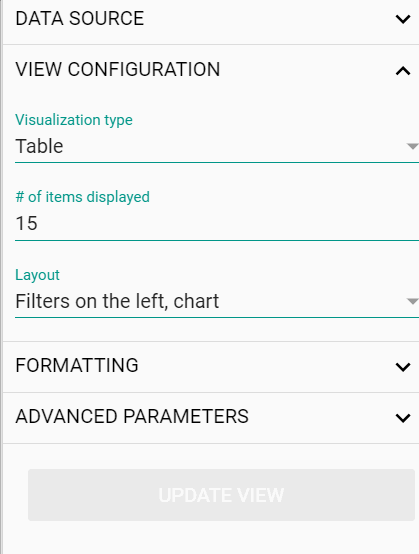 info
 There are
no settings
for the Advanced Summary view. And there's also no template needed - which makes it one of the easiest views to use.

And just like any other view-type, the Advanced Summary view's functionality can be enhanced with Awesome Table's powerful filters.
Advanced Summary-specific keywords

The Advanced Summary-specific keywords will help you personalize your Advanced Summary view.
info The Advanced summary view will automatically try to find the best chart to display your data (depending on the filtering applied and the type of data). To force the display of a specific chart and prevent the chart type to change when filtering, add one of the desired chart types as a keyword in the relevant column. 
warning Each chart type has designated data-type requirements (numeric or string). No chart will be displayed if the data is not compatible. More about this below. 
Keyword
Description

n/a

Data type: Date

The timestamp in the above view does not require a keyword since it's automatically assigned if the column is in date format.

info To remove this chart-type from your view, simply indicate the Hidden keyword in the parameters row.

BIAggregate

Data type: Numeric

Displays the sum of a column.

BIColumnChart

Data type: Numeric

Renders a column chart.

BIPie

Data type: String (text)

Renders a pie chart.

BIWordCloud

Data type: String (text)

Display the most frequent values in a word cloud (text-size depends on the number of occurrences).

warning This will only work on words with a minimum of 4 characters.

BICount

Data type: String (text)

Displays the frequency or the number of occurrences of each item (categories) in a tabular format.

BITopResults

Data type: String (text)

Displays the top 15 values in tabular format. If there are less than 15 categories, all entries will be displayed.
Advanced Summary compatible keywords
There's only 1 compatible keyword with the Advanced Summary view - Hidden.
| Keyword | Description | View type |
| --- | --- | --- |
| Hidden | Use the Hidden parameter to hide a column in your view. | Advanced Summary, Maps, Geochart, Gantt, Table, Cards |
Advanced Summary view examples
• Live example # 1 (Simple dashboard on preferred reading material)
• Live example # 2 (Advanced dashboard on Training performance)