1 - Create a template column
The first step to set up a template with Awesome Table is to create a template column in your data sheet. It is really easy as you'll only need to create an empty column in your data sheet. For the sake of simplicity, let's call this column "Template".

Now add "cardsContent" in the second row of this column (and make sure that it is in no other column).
Make sure that your data range includes this newly created column.
2 - Create a template sheet 
We will now need to create our template sheet in our spreadsheet.
The name of this sheet is not really important but the best practice would be to name it something like "NewsTemplate".
Only two rows are required in a template sheet, the header and the template itself. In your example, we will add in A1 "Template" (the name needs to be exactly the same as your column template header as it is case and space sensitive) and in A2 a very simple HTML template :
<p>Hello World</p>
3 - Reference your template in Awesome Table's settings
The final step of this article will be to specify to Awesome Table where your template is located. In Advanced Parameters > Templates Range you'll simply need to specify you template range in this way :
sheetName!begining:end
So in our example :
Template!A1:C
Once this is done, you should have this very simple template displayed :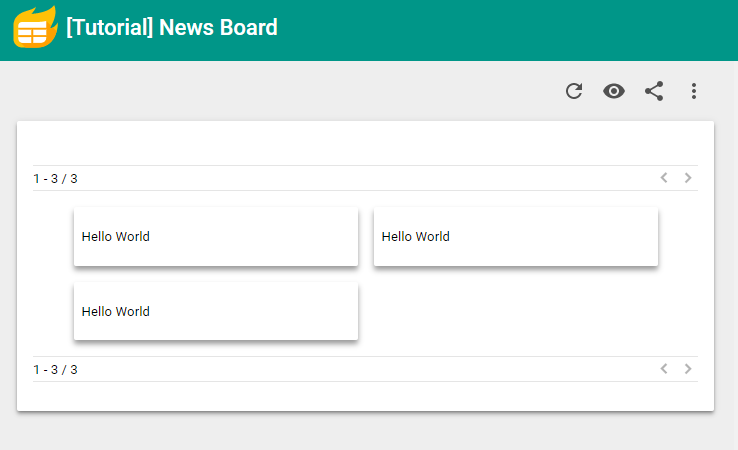 navigate_nextNext article :
In the next article of this tutorial we will learn how to customize your HTML templates with markers to display dynamic values from your spreadsheet and how to add CSS and Javascript templates.