It's now easier to add your Awesome Table view in the "New" Google Sites.
info Before beginning this tutorial, you should already have an existing view that you can use.
warning
You need to have admin / editor access to a website builder since you'll be inserting HTML code and scripts.

---
Please note that the

New Google Sites usage

is beyond Awesome Table's scope of support. We suggest reaching out directly to their Forum for your New Google Sites related concerns.
Copy the live view link
1.) First, copy the live view or edit URL from the browser's omnibar (combo search box and address bar).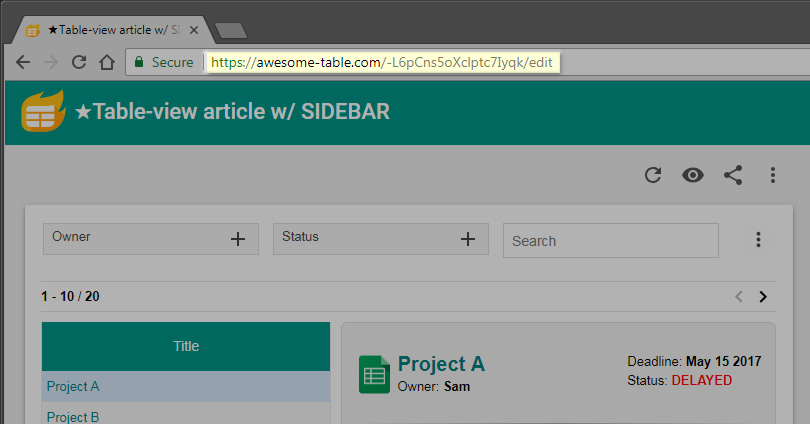 info Using the live view or edit URL is the recommended option for embedding your view on the New Google Sites. This way, the height of the frame will automatically adjust to accommodate your Awesome Table view's dynamic height. You can try this out by either resizing the width of your browser or by filtering your view.
Prep your New Google Sites page
2.) Once the relevant page is in edit mode, click the Embed icon on the sidebar menu or double-click anywhere inside the New Google Sites canvas, then select Embed.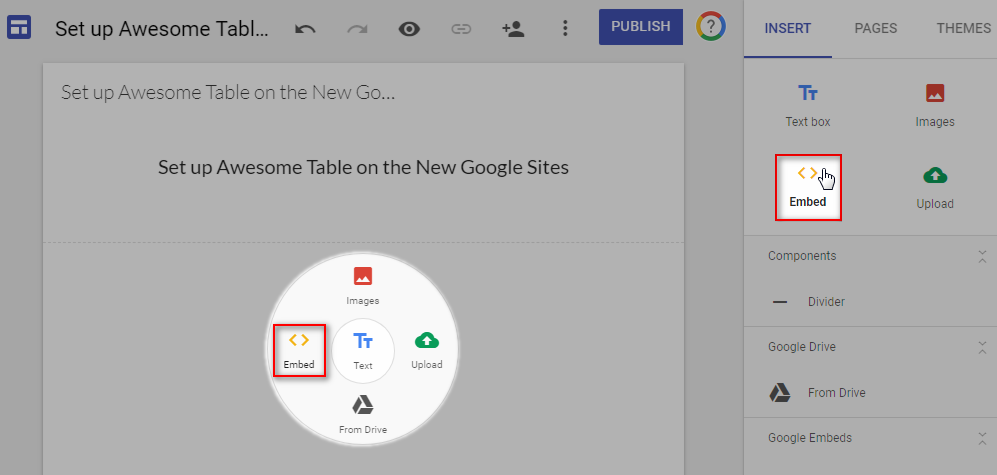 3.) Under the BY URL tab, paste the Awesome Table view link you copied in Step 1.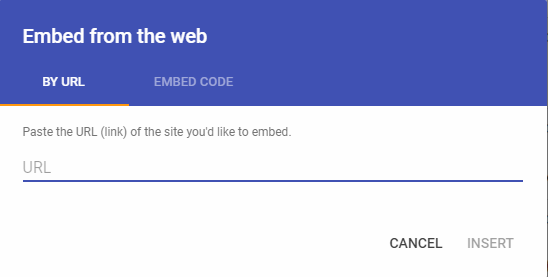 A live preview will be shown. Then click INSERT.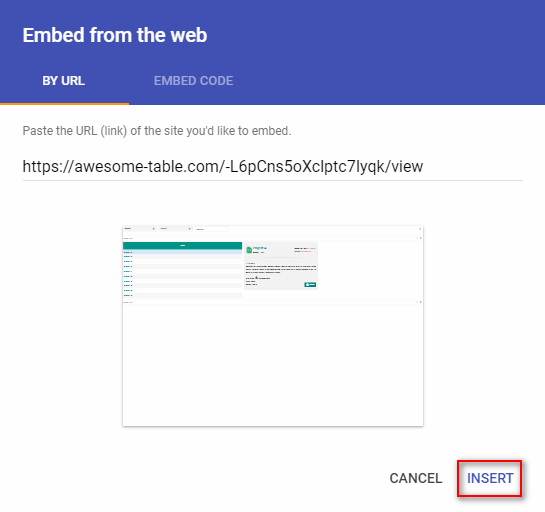 4.) Adjust the width of your view as needed.

info Don't like the idea of constantly resizing your view's width?

1.) Simply double-click where you want to insert your view.
2.) Select Text.
3.) Double-click immediately below it (but still within the same section).
4.) Select Embed.
5.) Then paste your URL.

See how your view automatically spans the entire width of the canvas. You can delete the textbox later on.
Publish your view
5.) Lastly, click the Publish button (located at the top-right corner of the canvas) for the changes to take effect. Your visitors should be able to see your Awesome Table view embedded on your New Google Sites.

Alternative embed options
On December 2017, GSuite made it possible to embed HTML and JavaScript code directly in the New Google Sites. With this new feature, you can now embed your Awesome Table view via the (1) Embed code or the (2) iFrame option.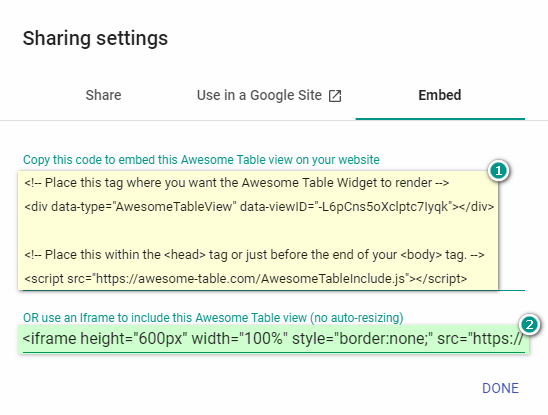 warning
Though these 2 embed methods work with the
New
Google Sites,
we don't recommend
using it because:
both methods cannot generate the correct height adjustment and
it will show a truncated view with vertical scrollbar (these are limitations on the New Google Sites editor).
As a remedy, you need to
manually resize
the embedded view (see animated gif below).
Please note that this doesn't happen on other website builders (like Wordpress, Joomla, Weebly, ...). With these editors, Awesome Table view's height and width are automatically adjusted.
The Embed code (and iFrame) methods showing a truncated view with a scrollbar.