We advise G Suite (formerly known as Google Apps) admins to install our Awesome Table app via the Google Apps Marketplace to avoid authorization pop-ups when people want to see an Awesome Table app.
This article describes the required steps to install the Marketplace app. To learn more about why we advise to install this app, see our article 'A new authentication flow'.
info This article is only for Google users.
1. How to install the Awesome Table app ?
Authenticate yourself with a valid admin account for your G Suite domain.
Open the Google Apps Marketplace and search for 'Awesome Table', or click on this link.
Click on the ' + ' button to install the app on your domain:

The following authorization window will pop up: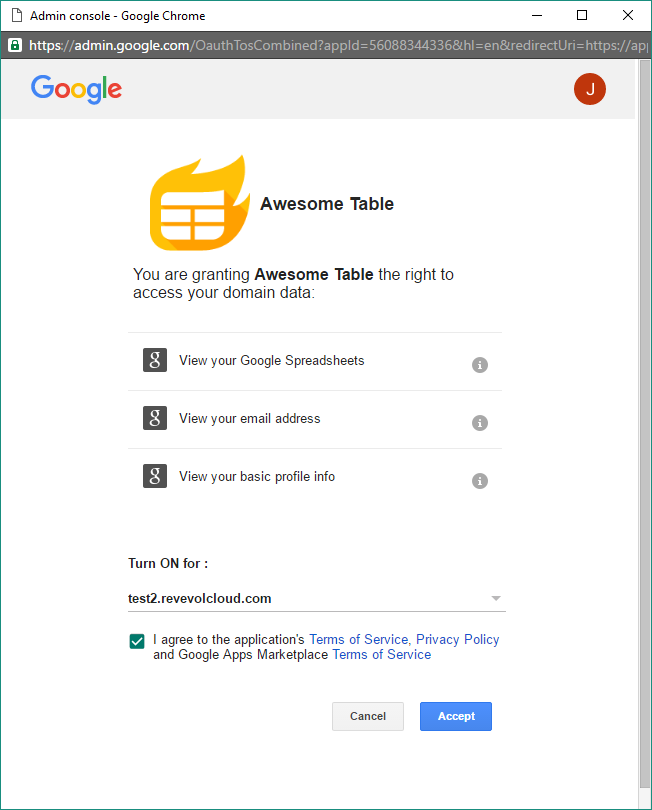 Permissions:
We are asking for 3 different permissions. 'View your email address' and 'View your basic profile info' are generic scopes that are mandatory for any app published on the Google Apps Marketplace. We do store this information in our database to create user profiles.
The most important / specific permission is 'View your Google Spreadsheets'. We are asking this permission as per Google requirements as of September 14, 2016. You can see their public announcement here.
Note that this scope does not allow us to list all the spreadsheets on your domain - to do that we would need access to Google Drive. Awesome Table can only access spreadsheets for which we know the URL / ID - i.e. spreadsheets linked to an Awesome Table app. The data from your spreadsheet is never stored in an external database, as mentioned in the 'Confidentiality & Data security' section of our Terms of Use.
Turn ON for:
You can choose to install the app for a given organizational unit (OU) or the whole domain. We advise to make the app available to all people who could have access to an Awesome Table app (usually best is to install for the whole domain). If you install for a given OU, someone outside this OU will be prompted to authorize Awesome Table before he can see an app.
Terms of use & Privacy Policy:
Here are our public Terms of use and Privacy Policy.
Once you have installed the app, you can choose to automatically notify all users on your domain or not. Best might be to uncheck this as the goal of this installation is mainly to avoid authorization prompts, not advertise Awesome Table to all users on the domain: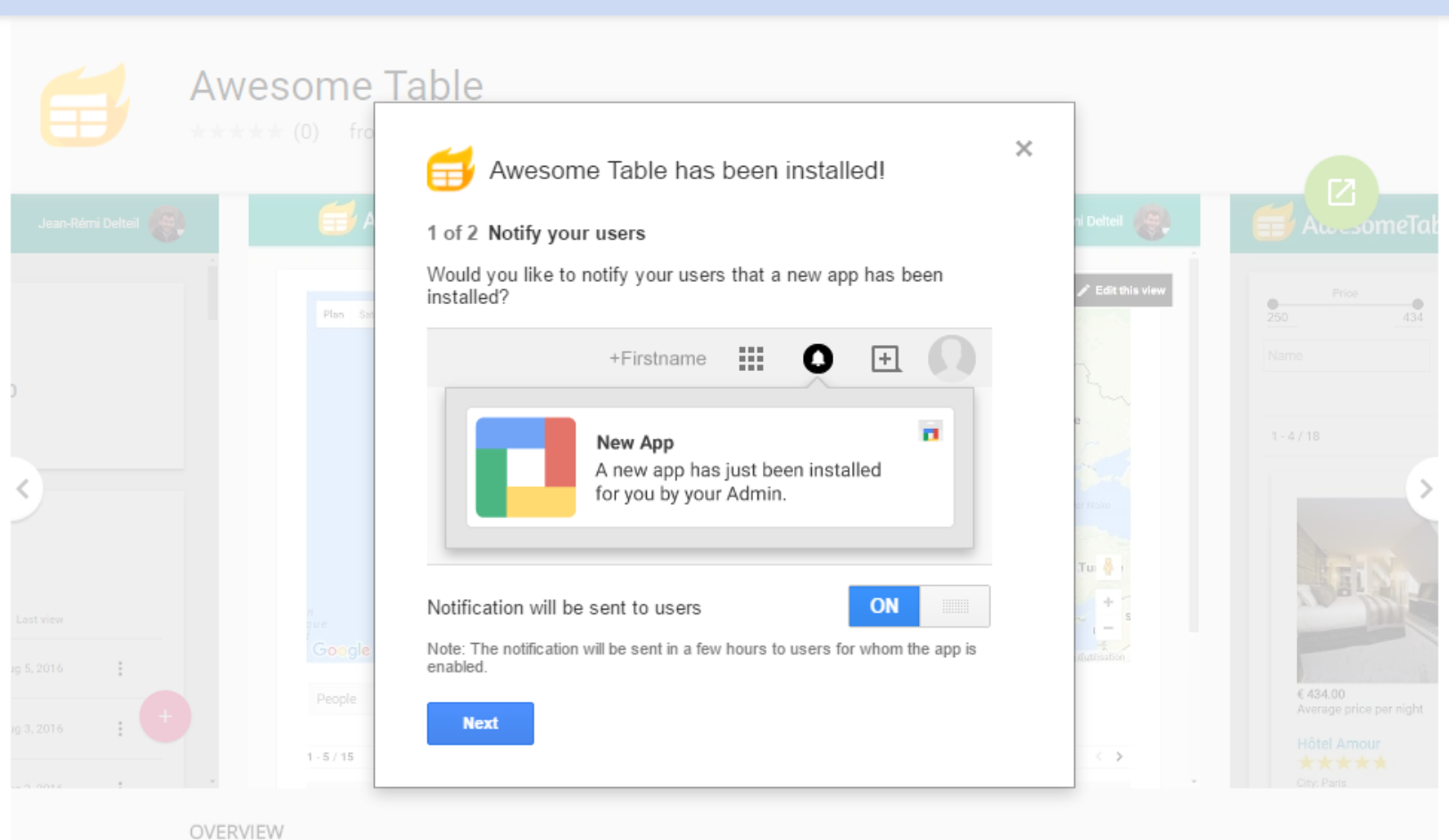 That's all! Awesome Table is now correctly set up on your domain and end users won't be prompted to authorize anything when they open an intranet page containing an Awesome Table app.
2. Monitoring usage on the domain
Now that Awesome Table is using a standard authorization flow to access spreadsheet data, you can find the activity linked to Awesome Table in the G Suite admin panel - under Reports > Token.
This report lets you see every time a user on your domain has accessed spreadsheet data through Awesome Table. You can also export the data in a spreadsheet (via csv) to get a better report.