Awesome Table provides easy ways to filter your data in your views.
If you have a lot of data in your Spreadsheet, you can ease the research for people using filters. Elements can be filtered by : categories, numbers, dates , string and more! 
1 - Spreadsheet configuration
In Awesome Table, we use Spreadsheets with a specific structure: the first row is for headers (a short descriptive name of your columns), and the second row for filters and parameters.

Simply write the keyword corresponding to the filter you want to use.
See our documentation on Spreadsheet configuration.
2 - StringFilter
Use the "StringFilter" to filter text columns containing exact match.
This filter is sensitive to accents (you must type the accent in the filter to show results that have accented characters).
3 - NumberRangeFilter
Use the "NumberRangeFilter" to filter columns containing numbers. 
For now ,Awesome Table automatically adds Numeric filters when columns contain numeric data if you do not have another filter. To remove this filter, indicate "NoFilter" on that column. 
4 - DateFilter
Use the "DateFilter" to filter columns containing dates.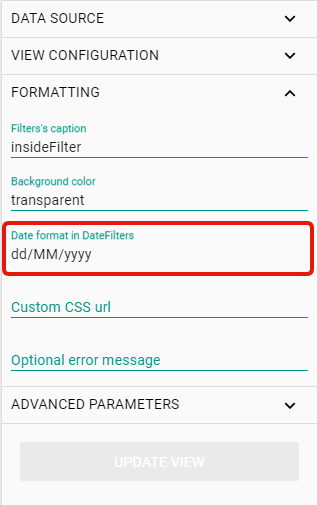 In this field you can change the way your dates are displayed (
here
you can find examples on dates formats).
5 - CategoryFilter 
Use the "CategoryFilter" to filter columns containing values from a list (choose from a list). If you select several values in your filter, your view will display elements that match at least one value.
6 - csvFilter 
Use the "csvFilter" to filter columns containing a list of comma separated values (e.g.: a list of skills).
When selecting multiple values, the view will show results containing all the selected values.
7 - Dependent categories filter 
 You can add more functionalities by linking multiple CategoryFilter & csvFilter: the linked filters will only show the value matching the parent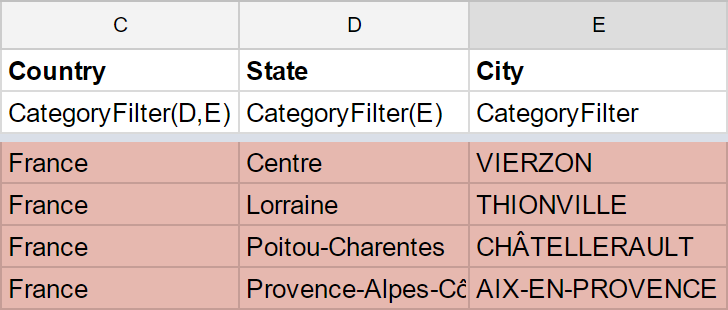 Link the columns by adding the letter of the linked column in brackets at the end of the categoryFilter (or csvFilter) keyword.
8 - noFilter 
Use the NoFilter to prevent numeric filters to show up as those are the only one automatically generated by Awesome Table.
9 - Labels inside filters 
By default, Awesome Table uses headers of your spreadsheet as labels for your filters. You can change that in Formatting - Filter's Caption.
By default, filters look like this:

It is possible to set a default text for CategoryFilter and csvFilter to get something like this:

To do this you will need to go to Formatting in your sidebar and change the "Filter's caption" link.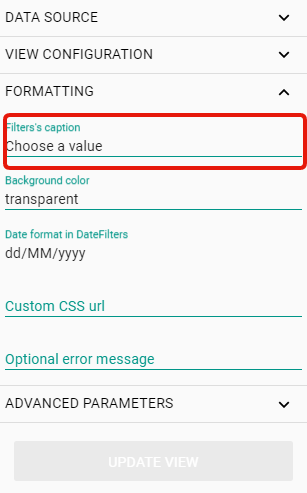 You can get your headers back as your filter's labels by writing "insideFilter" in this field.