Parameters can be used to specify the way you want Awesome Table to handle and display your data.
In this article you will learn how to hide some data and how to use specific types of views using parameters.
1 - Spreadsheet configuration  
In Awesome Table, we use Spreadsheets with a specific structure: the first row is for headers (a short descriptive name of your columns), and the second row for filters and parameters.

To add a parameter, write the keyword in the second row of the desired column. If you need to have two elements in the second row (a filter and a parameter for example), separate those elements with a "-" (ElementA - ElementB).
Please read our documentation on spreadsheet configuration.
2 - Hidden
Hidden : Use the Hidden parameter to avoid displaying data from a column in your view.
Note : It can be also used as an additional attribute : i.e. CategoryFilter - Hidden. This way, data won't be displayed in the table. However, it will be possible to filter results with the CategoryFilter. 
3 - General parameters
ListType and numberedListType : Use these parameters to transform a csv value into a html list. listType will display you list with a simple dash (<ul>) and numberedListType with incremental numbers (<ol>). You can also sort your list alphabetically and numerically by adding "asc" or "desc". Example : listType(asc).
HyperlinkType : Use HyperlinkType to simply add a link to an element like some text or a picture as an alternative to templates(useful to display a link in your table without having to show the full link). It will also hide the URL column.

If you set up a spreadsheet like this you will get this result :
It should look like this : buttonType(urlColumn,backgroundColor).
Example : buttonType(B,#ffc107).
IconType: Use IconType to display icons without using any template. You can choose to display any icon from https://material.io/icons/ (make sure to use "_" when an icon is composed of two words, "high quality" --> "high_quality" and that all letters are lowercase).
You can use it in two different ways:
Display a stand alone icon : just write "iconType" on a column filled with icons.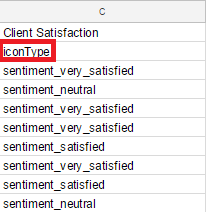 Display an icon on the left of your text by writing "iconType(IndexOfYourIconColumn)". It will hide the source column.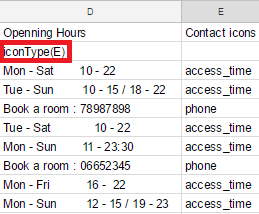 4 - Table view parameters
Sidebar : Use the Sidebar parameter to display a detailed view of selected row in a sidebar (this only works with templates).
ImageType : Use the ImageType parameter to display simply images from a column containing links to your images as an alternative to templates. Users will be able to see the full image by hovering over the column.
RatingType : Use the RatingType parameter to transform a number from 0 to 5 to rating stars.
5 - Card view parameters 
Note : Awesome Table cards view is better with templates ! 
CardsColor : Use the CardsColor parameter to color the background of each cards differently. Either hexadecimal (ie. #F44336) or CDD colors (Light Green, Amber...) can be used.
Here are all material design colors from Google recommendations (Hexadecimal equivalent and CSS colors).
 CardsContent : Use the CardsContent parameter to specify the column displayed by the Cards.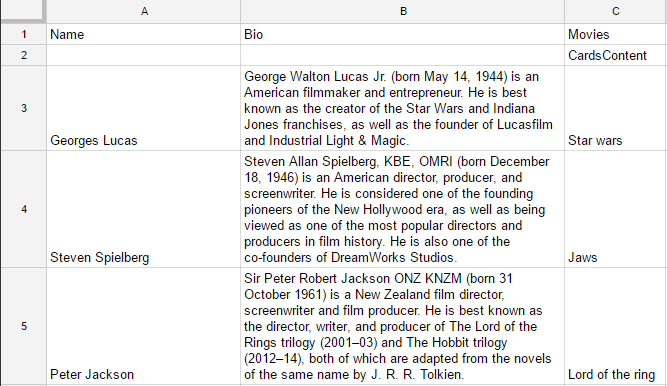 6 - Map view parameters
Note : Awesome Table map view is better with templates ! 

MapsLong : Use the MapsLong parameter to designate the column containing the longitude coordinates.
MapsLat : Use the MapsLat parameter to designate the column containing the latitude coordinates.
MapsTooltip : Use the MapsTooltip parameter to add a tool-tip displaying useful information above the markers.
7 - Advanced summary view parameters
By default the Business intelligence view (BI) will try to use the best display for each chart, but you can force the display on some charts depending on their data type: String, Number, Date.
BIAggregate:
Use the BIAggregate parameter to display the sum of a column.
Column type: Number

BIColumnChart :
Use the BIColumnChart parameter to display data in a column chart.
Column type: Number
BIPie :
Use the BIPie parameter to display data within a pie chart.
Column type: String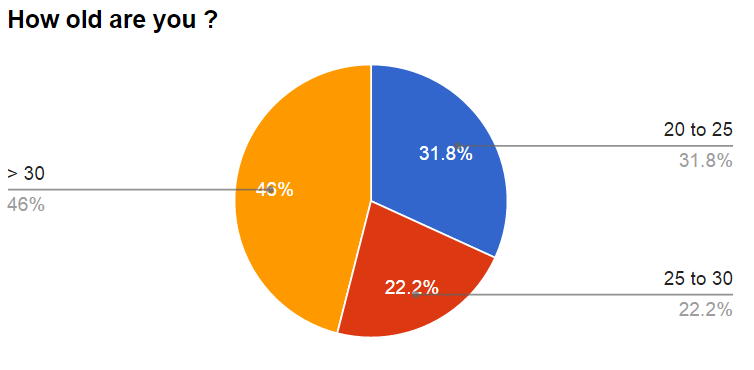 BIWordCloud : Use the BIWordCloud parameter to display responses as a cloud of words.
Column type: String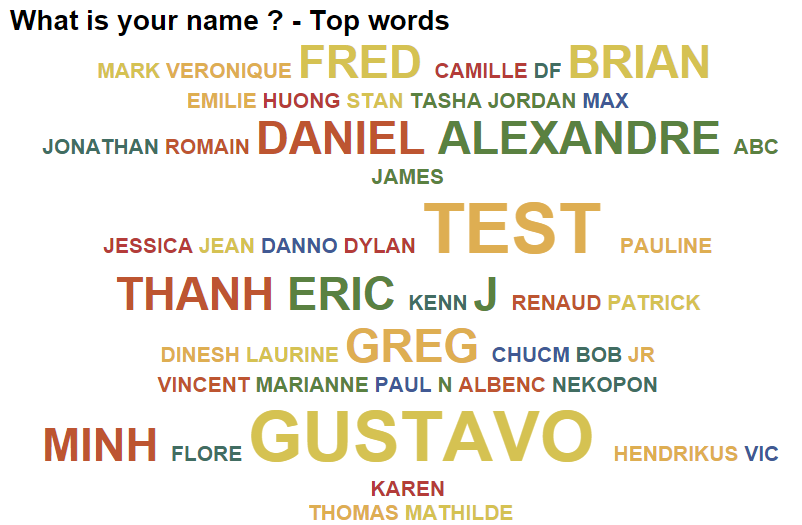 BITopResults : Use BITopResults to display as a table the top 15 form responses ranked by number of occurence.
Column type: String