In this article, you will learn how to insert an Awesome Table app in SharePoint, which is a web-based collaborative platform, using Awesome Table's gadget.
info Please note that this article only applies to Microsoft users.
Before you can add an Awesome Table app to a SharePoint site, you need to add Awesome Table to the list of permitted external sites. If you skip this step, you will not be able to successfully add the app.
1. Allow access to your Awesome Table app on your SharePoint site
info
If you want to access directly to the SharePoint site, click
here
. Log in to your Microsoft account > select the site where you want to embed your Awesome Table app.
Once you are on your SharePoint site, follow the steps below to know how to allow access.
1.1 Click the Settings icon > Site information
1.2 Once done, click View all site settings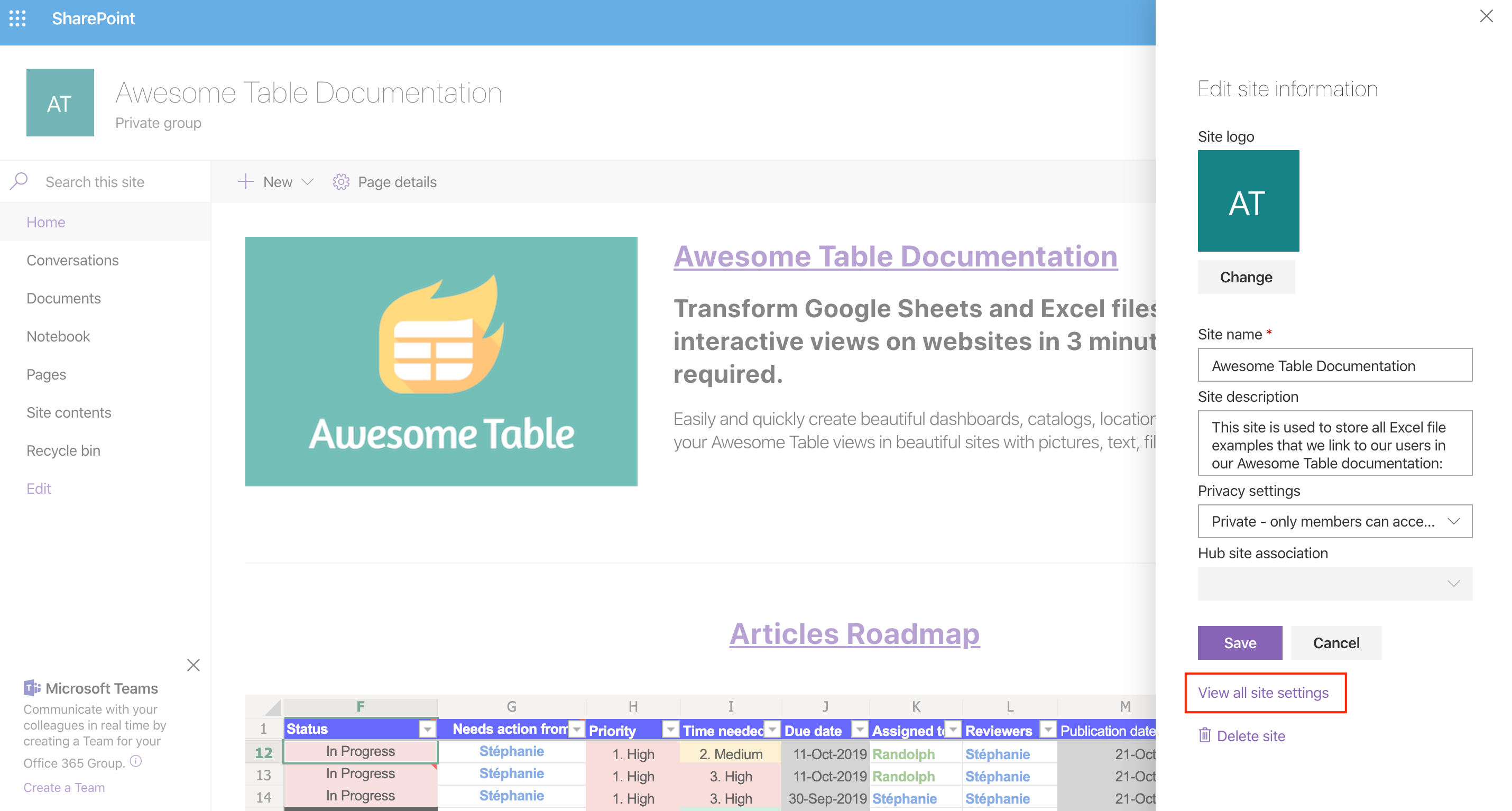 1.3 Finally, click HTML Field Security
info
Please note that if '
Allow contributors to insert iframes from any domain
' is selected in your settings you jump directly to section 2.7:
1.4 Copy the following domain:
view-awesome-table.com
1.5 Select 'Allows contributors to insert iframes only from the following domains'
1.6 Paste 'view-awesome-table.com' under Allow iframes from this domain field > click Add
1.7 Make sure the link has been correctly added to the list, then click OK:
2. Display an Awesome Table app on SharePoint

In our example, we will embed the following app:
If you want to access the app, click on the following link:
1. Open your Awesome Table account
1.1 Open your Awesome Table account > select the app you want to display on your site
1.2 Click 'Edit'
1.3 Click on the Share icon
A pop-up appears.
1.4 Select Embed
1.5 Copy the <iframe> code > click 'Done'
info If you easily want to test how it works, copy the <iframe> of our AT app: <iframe height="600px" width="100%" style="border:none;" src="https://view-awesome-table.com/-Kw_x2E7FSPc1CllMUge/view"></iframe>
2. Open SharePoint with your Microsoft online account
2.1 Go back to your Sharepoint account > click on your site logo at the top left:
2.2 Click Edit
A new window appears.
2.3 Click Add a new section
2.4 Click on the '+' icon and choose the layout section you want
In our example, we selected One column:
One column appears.
2.5 Click the '+' icon at the middle top of your column
2.6 Select Embed
A sidebar appears.
2.7 Paste the <iframe> on the filed under 'Website address or embed code' to display your Awesome Table app
warning If you didn't add correctly the domain address to the list of domains that are allowed to be embedded as explained (go back to 1.7 section), an error message saying 'Embedding content from this website is not allowed' will appear:
done That's it! Your Awesome Table app has been added to your SharePoint site.