In this article, you will learn how your data is processed by Awesome Table.
Awesome Table is a cloud-based application software (web application) that displays the data provided by a data source in a customizable app, which you can embed into any website (the service). To use the service, you must have a Google or Microsoft account to access the configuration console of the service (web app editor) and a datasource that will contain the data displayed by the service.
If you are using Awesome Table with Microsoft or with spreadsheets that have not been shared publicly, users will be asked to grant access to the spreadsheet and to our web app before the data can be displayed. For apps with Google Sheets Access setting of Can view, users are not required to log in.
warning The data from your datasource are never transferred to any external database.
Data Flow and Security
Overview of the data flow
Detailed schematic of the Data Flow & Security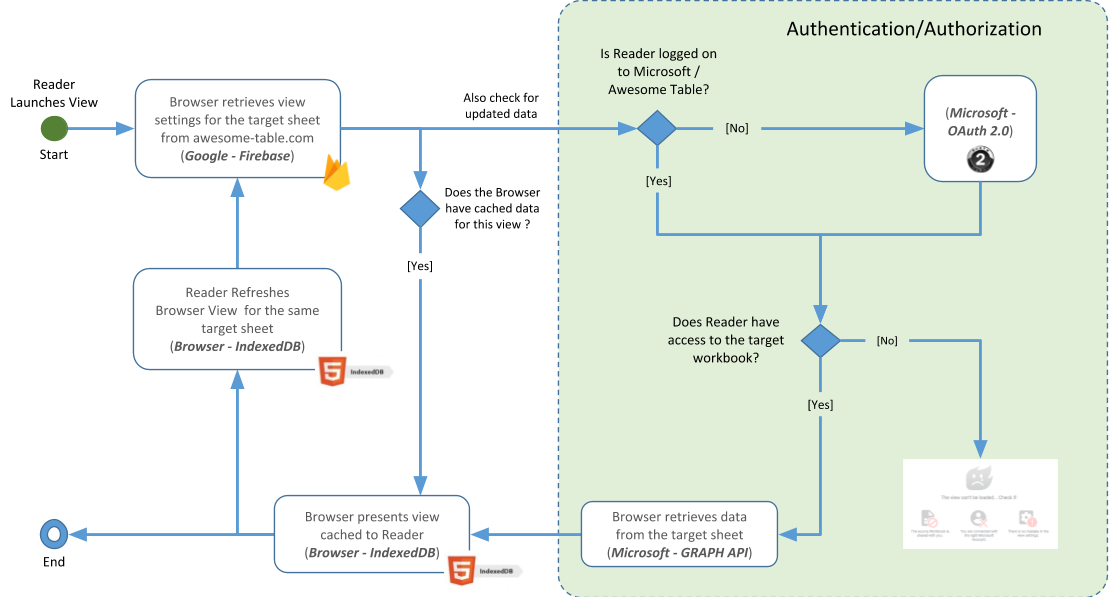 warning As shown in the diagram above, your spreadsheet's data never passes through Awesome Table's server.
Important things to remember about your data's security
Awesome Table does not have the authorization to edit the access rights of your datasource. The owner of the app and the datasource is the only person who can manage the data access rights, by sharing the spreadsheet with the intended audience.
In no case are the textual contents of users' datasource transmitted to any third party services outside of the user's direct control or knowledge.
All personally identifiable data that owners (creators) keep in their files associated with this tool remain in the control of the owner. Unless specifically stated, we do not store personal information in any third-party databases or file repositories.
We've taken all precautionary measures to ensure
that your data are 100% safe with us.