1 -
Make your view filterable
When you have a lot of data, it can be useful to allow users to filter relevant elements.
In this article you will add three of our filters which are StringFilter and csvFilter. All our available filters are listed in this article.
To do this, you need to write "stringFilter" and "csvFilter" in the appropriate columns in your source spreadsheet.
warning The use of upper or lower case in the use of keywords has no consequences. There is no difference between "stringFilter" or "StringFilter".
info You can access your spreadsheet directly from Awesome Table interface, in the Data Source menu.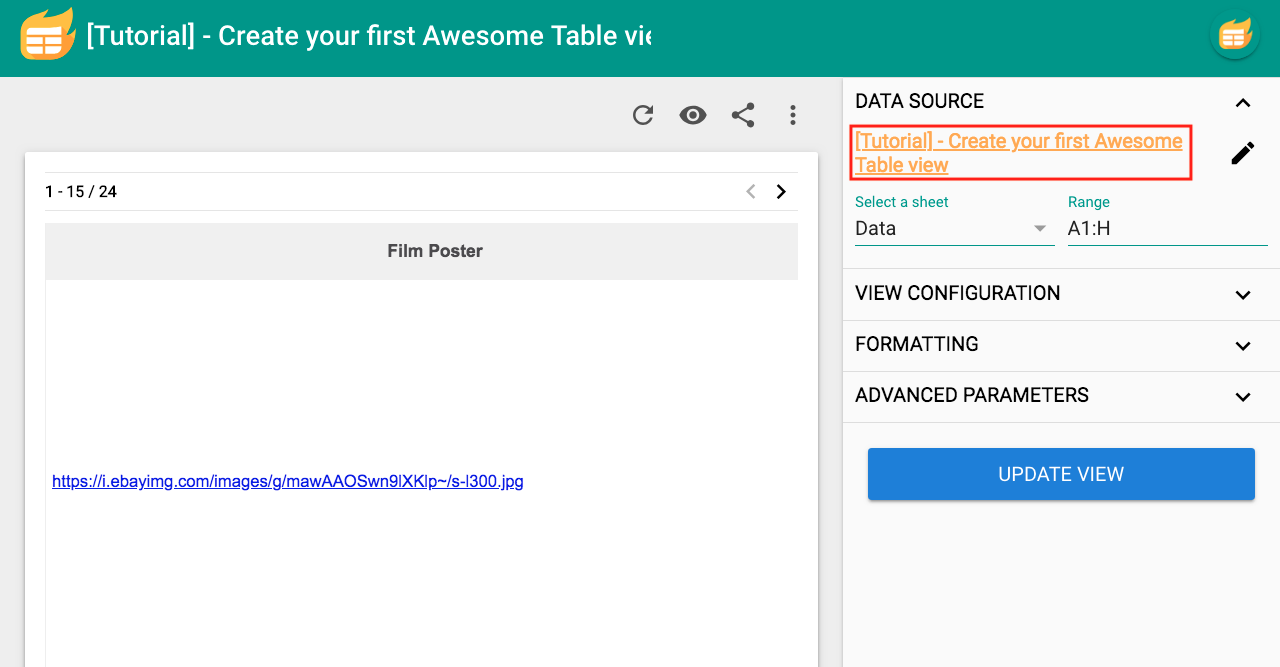 • StringFilter
First, we need to add one filter for the "Movie" column and another one for the "Director" column.
We use StringFilter for both cases because these columns contain text, and StringFilter allows us to filter with an exact match.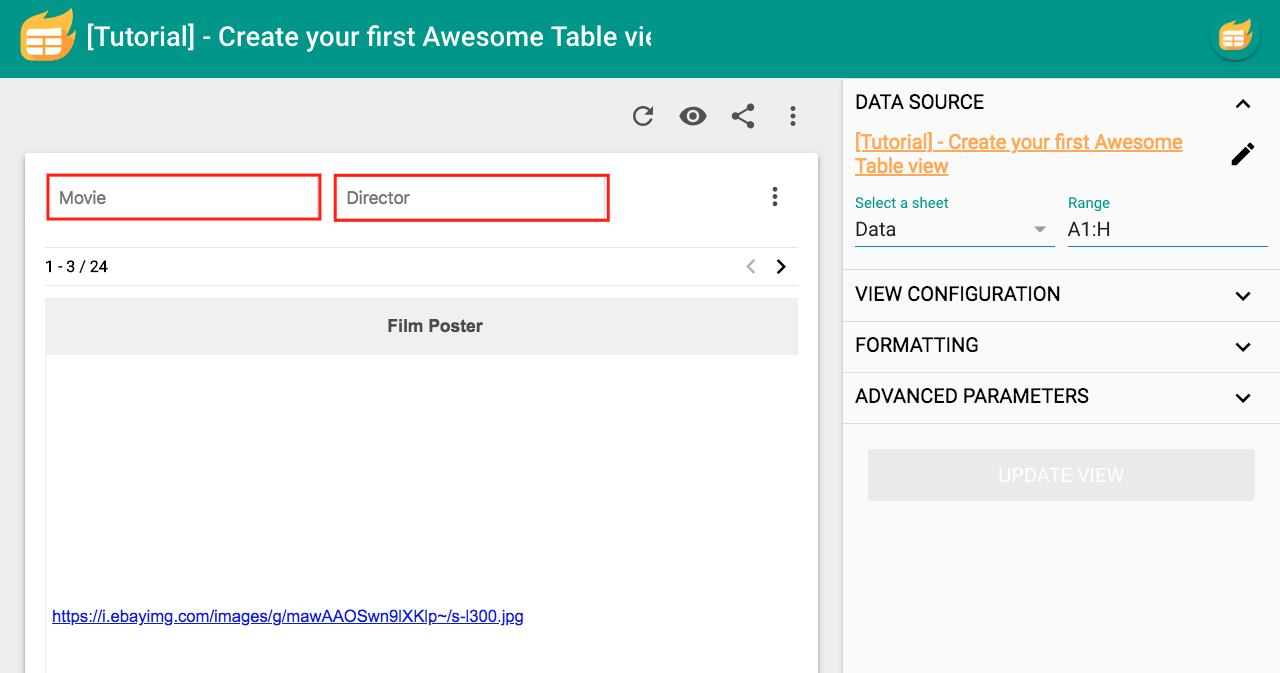 • CSVFilter
The "Category" column has different information separated by comma, so we want to be able to display only values that are selected in the filter.
You just need to use csvFilter in your second row for this case.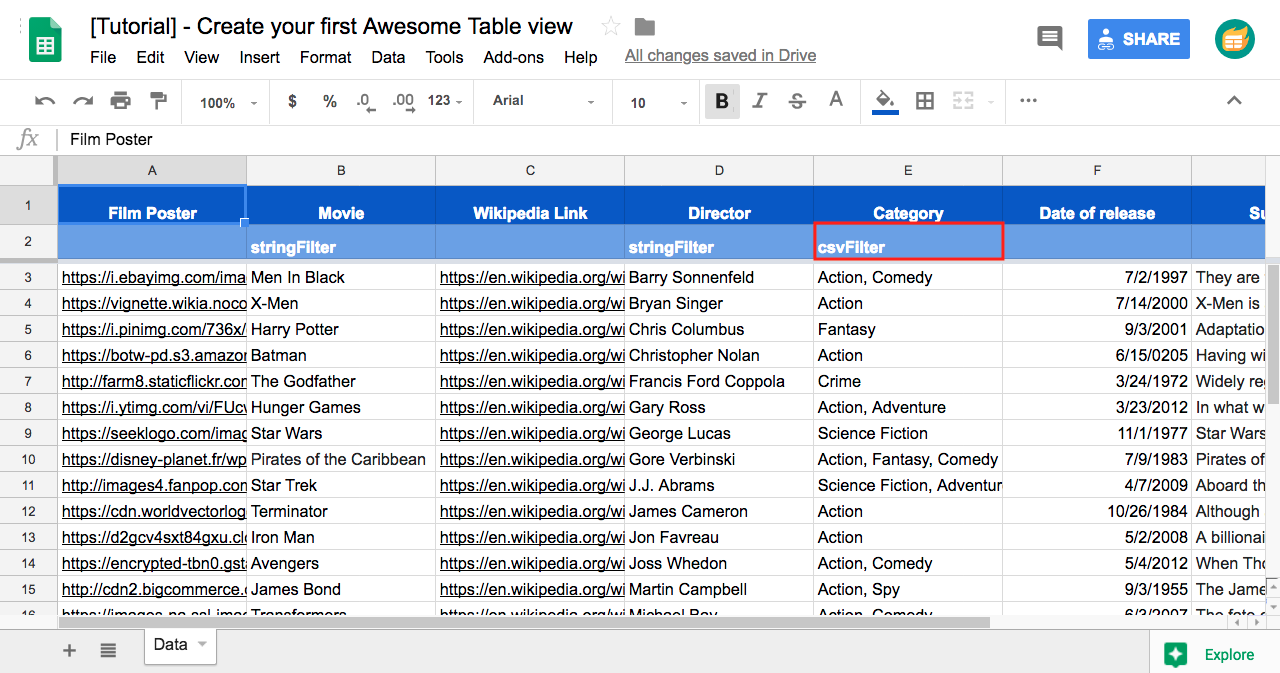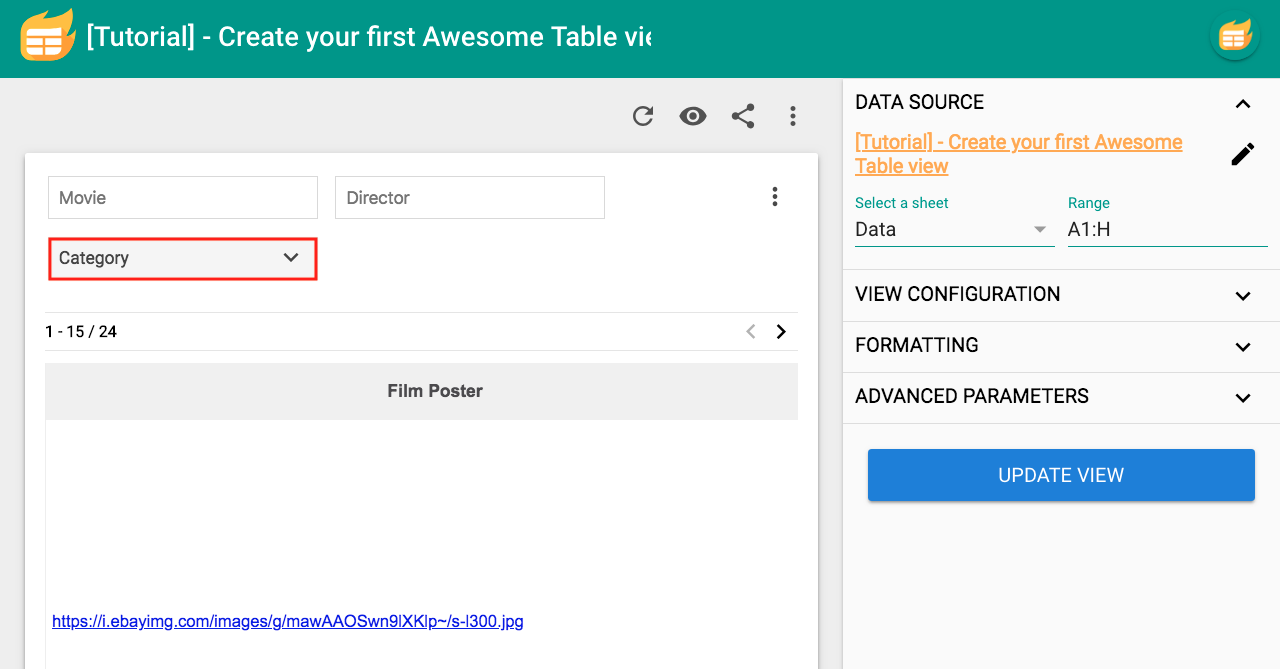 2 -
Use keywords to make your view functional and pretty
In this part, we will see how to make our view pleasant to look and organize our data in the best possible way. You also can find all our available keywords in this article.
• ImageType
In the first column, we have a link that redirects users to an image if they click on it. You can use ImageType to display automatically an image from an image link.
In addition, you will be able to see the entire image by hovering over the image.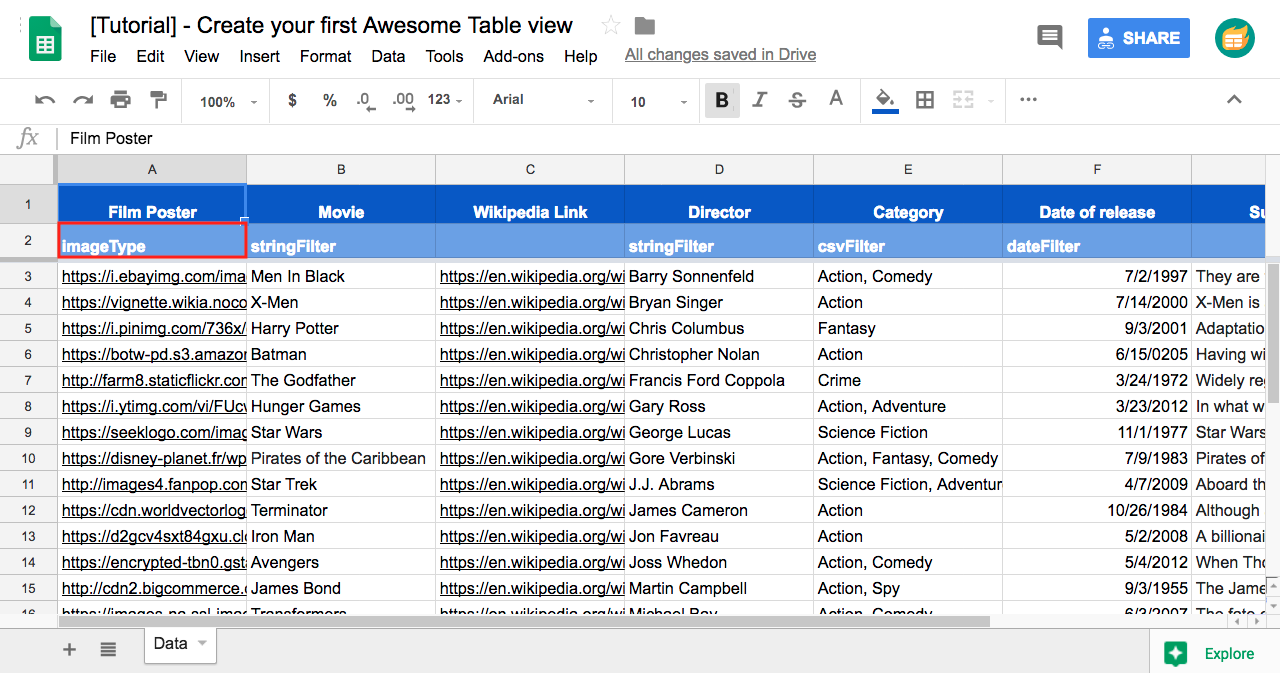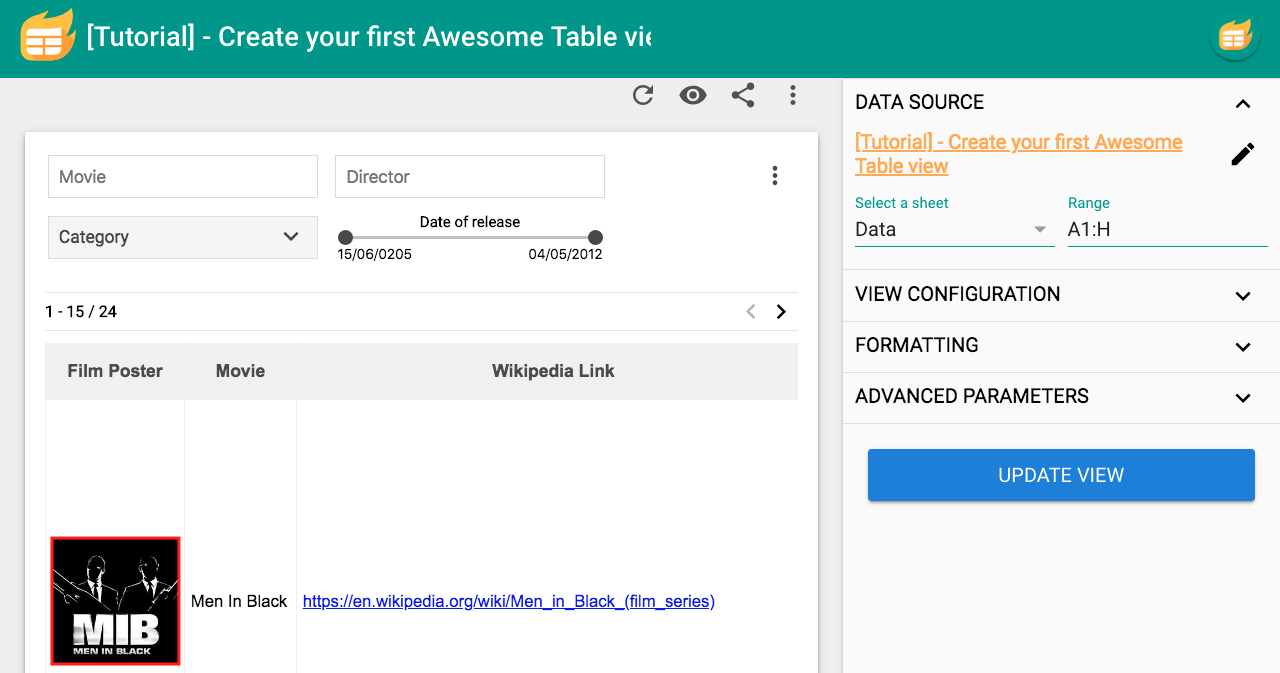 • HyperlinkType
To make the view more readable and avoid users from scrolling horizontally the view, we need to bring the "Movie" and "Wikipedia Link" columns together to use a hyperlink with the HyperlinkType keyword.
The HyperlinkType keyword works only if you have an anchor column and a link column.
In our example we have already these two columns: The "Movie" column is an anchor column

The "

Wikipedia Link" column is a link column.
You'll just need to indicate the link column between brackets and your link column will be automatically hidden.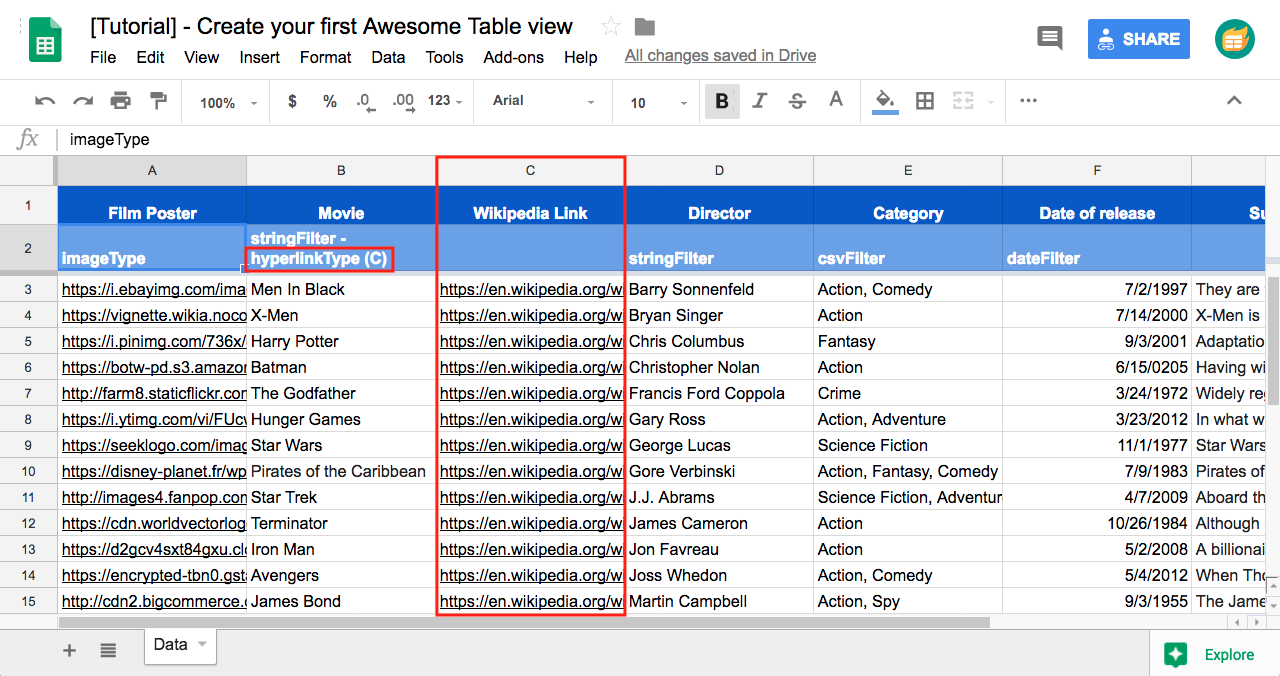 info If you use several filters or keywords in the same column, you just need to use a dash to separate the parameters.
• IconType
It is also possible to use icons with Awesome Table. In our case, we will add icons for every hyperlink in the "Name" column. But there are many ways to use icons with IconType.
You just need to indicate between the round brackets the name of the icons you want to display: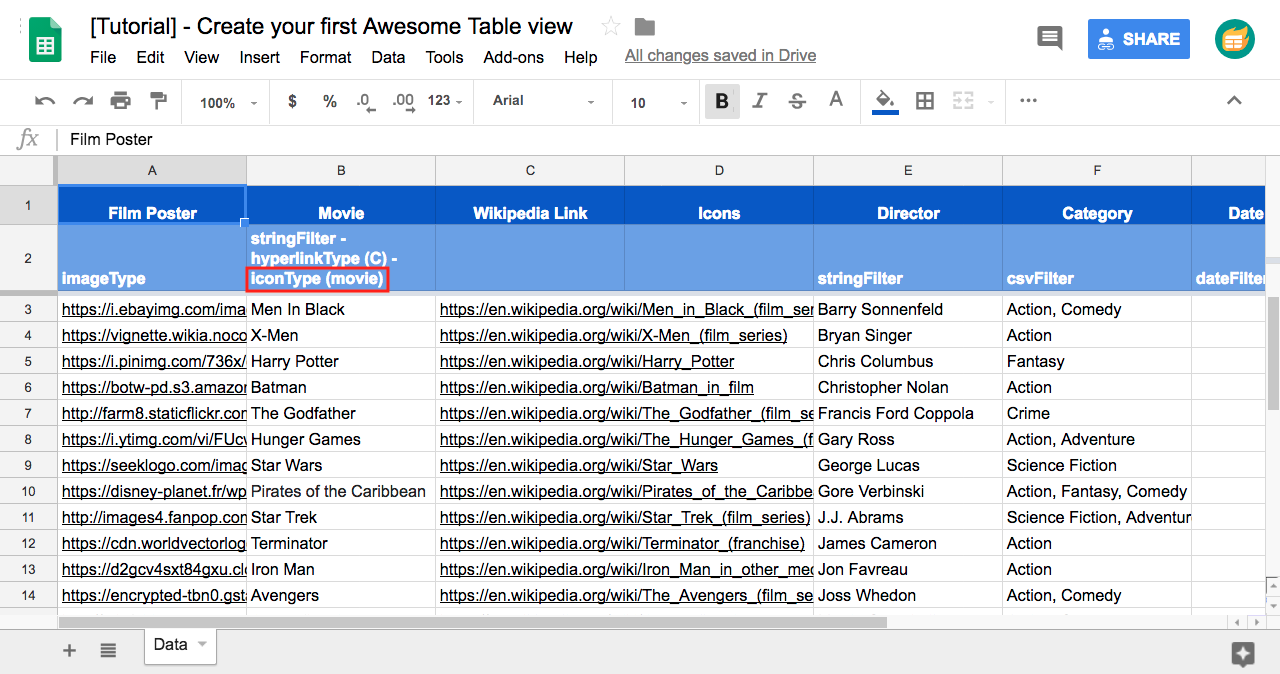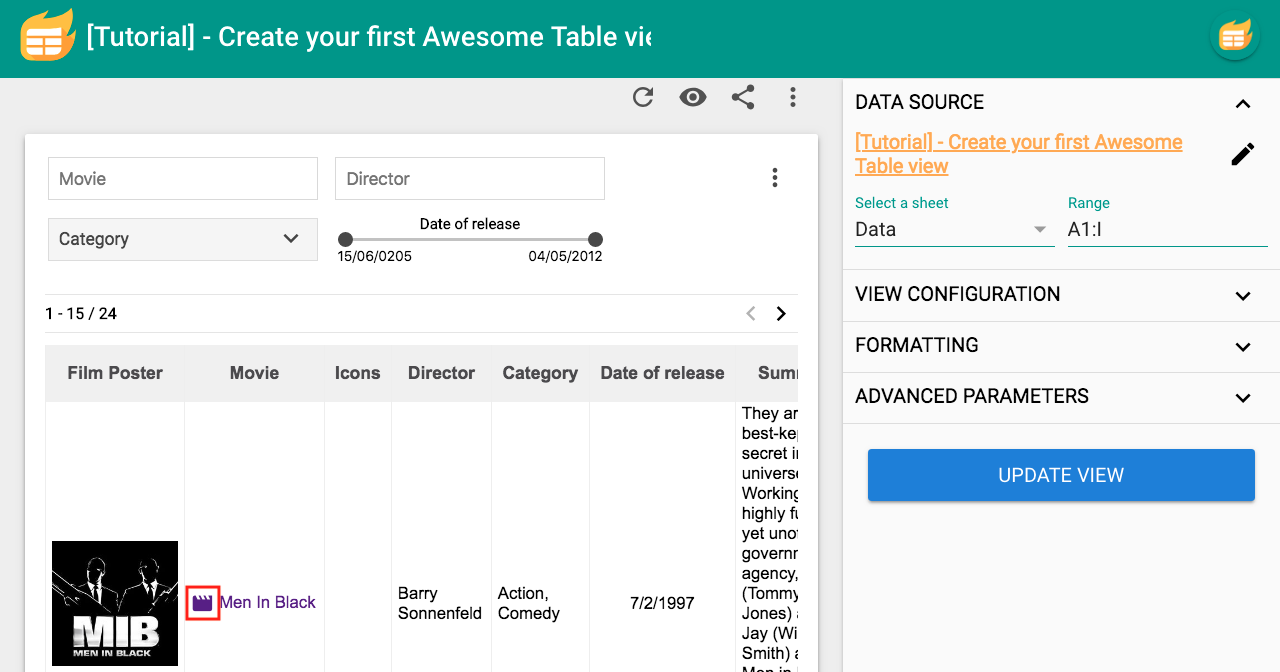 All icons available can be found on this website. In our example we chose the movie icon. The name you need to use is indicated when you click on "Selected Icon".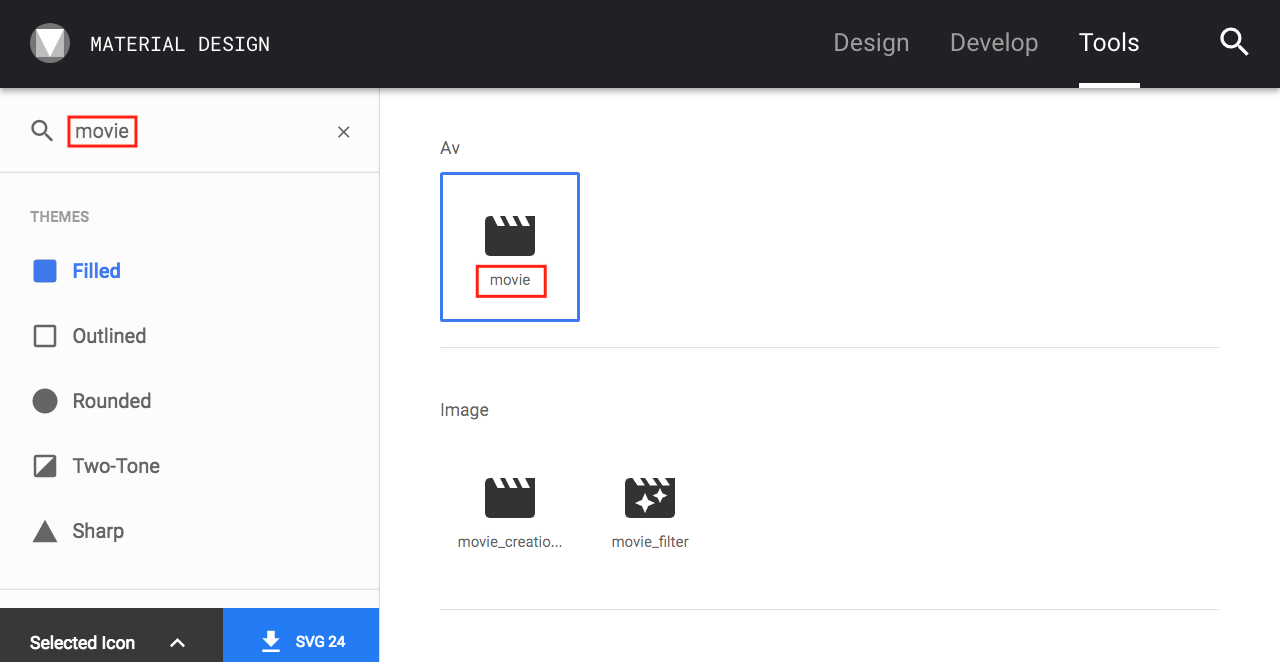 • Hidden
When one of your column is not relevant to be displayed, you can hide it with the Hidden keyword.
This will not prevent the filter from working properly.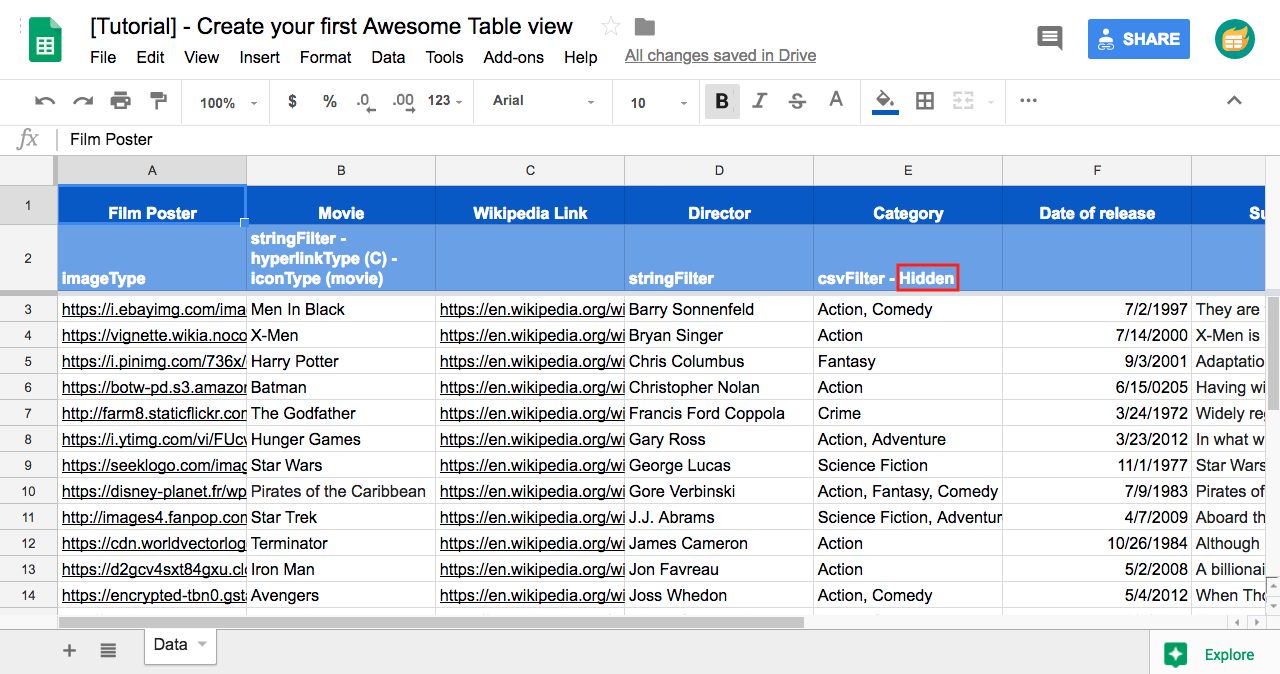 •
ButtonType
In our last column which is "IMDb Link" column, we want to display a button that redirects users to the desired link.
To create a button, you need 2 columns: One for the name of the button, and another for the links.
In our example, you need to add a 2nd column with the name of the button, and indicate between the brackets the column of the links with the ButtonType keyword. You can also choose the color of your button between brackets with an hex code or with a classic color after the comma. We chose the "#0080ff" color.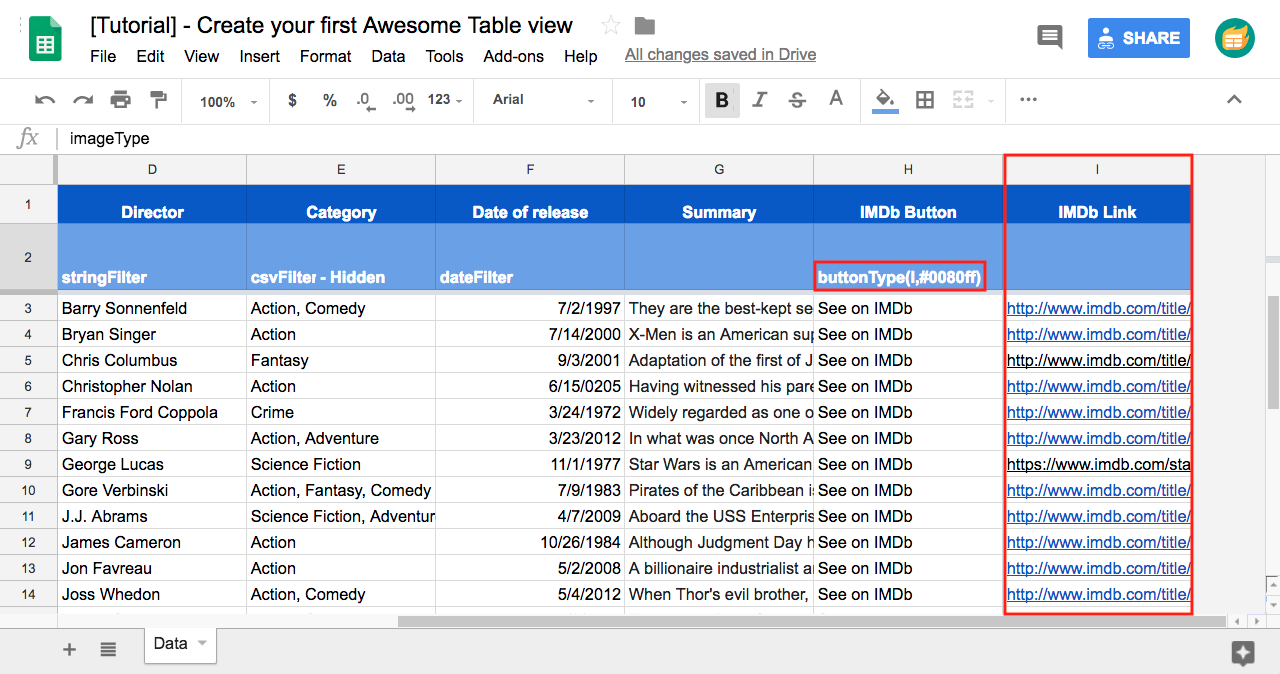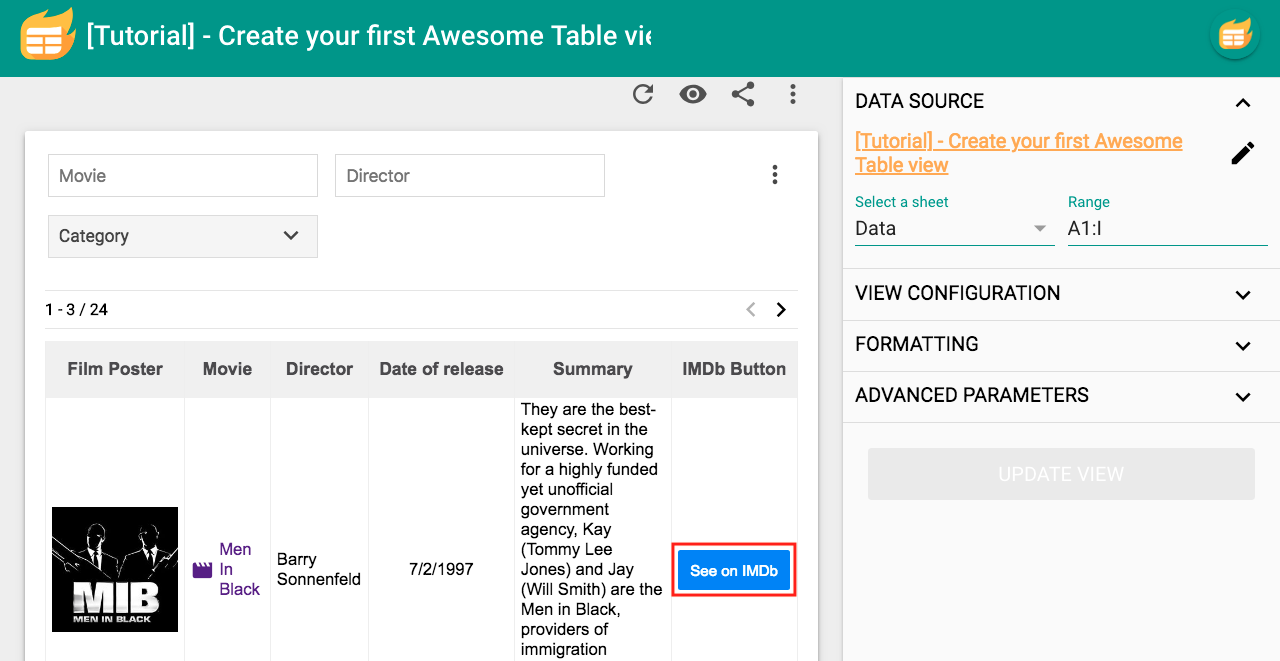 warning When you create a new column, you have to update your data range. In our example, at this stage, the data range must be "A1:I".
•
RatingType
As our view is a directory of movie, we want to add a rating system with stars to show what the best movies are.
In our example, you have to create a new column with RatingType keyword and indicate a number between 1 and 5. It's important to put your column in the number format.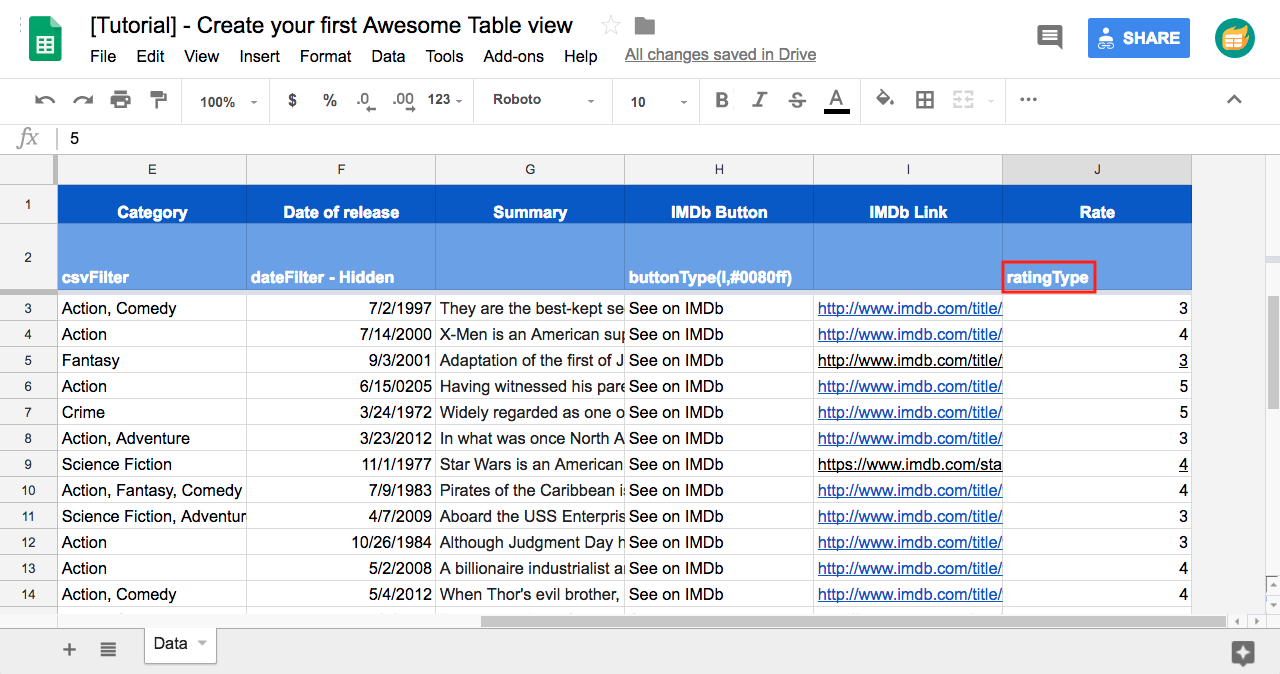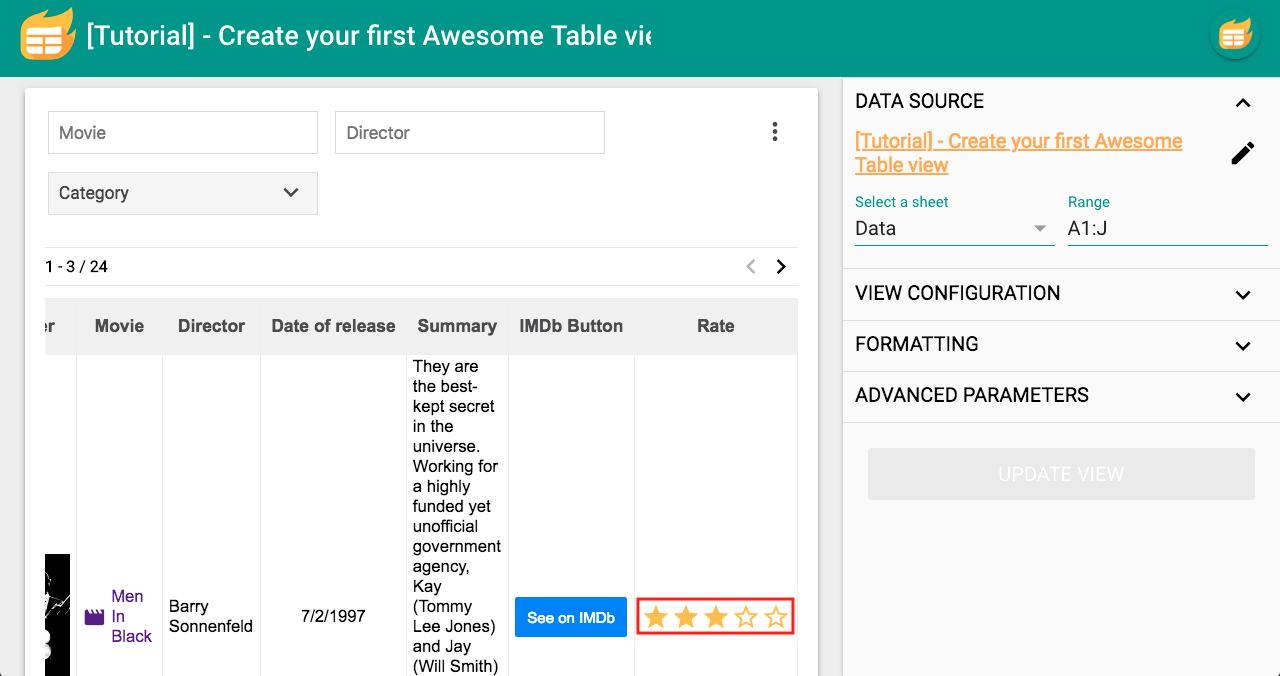 warning When you create a new column, you have to update your data range. In our example, at this stage, the data range must be "A1:J".
done Congratulations! You've now created a directory of movies using Awesome Table.
You should get a similar result :