1 - Make your view filterable
When displaying lots of data, it can be useful to allow users to filter relevant columns. In this tutorial, you will add a categoryFilter to sort classes by types and a date filter to sort them by starting date.
To do this, you need to write "categoryFilter" and "dateFilter" in the appropriate columns in your source spreadsheet.
Tip : You can access your spreadsheet directly from Awesome Table interface, in the Data Source menu.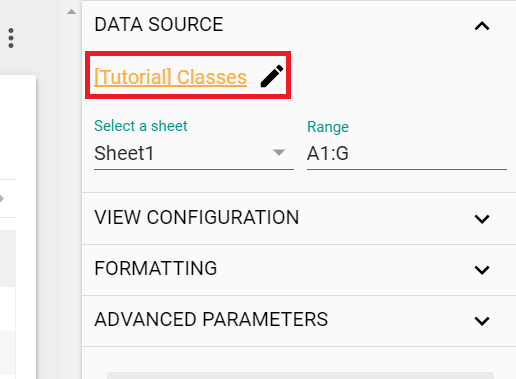 2 - Make your view functional (& prettier) with keywords
Using keywords (parameters) is the easiest way to make your view look more professional. You can use them to display images, links or lists.
In this example, you will replace the lengthy (& ugly) registration links with clickable buttons. You'll use the keyword ButtonType to do this.
Create a new column called "Register" filled with the text you would like to display inside the buttons.
Add the keyword (parameter) in the newly created column - referencing the linked column, i.e., ButtonType(F).
Update the data range in "Data Source" to include the new column. i.e., A1:G
done You've now created a class registration board using Awesome Table!
You should get a similar result :