If your spreadsheet contains a lot of data and its structure is complex it can be useful to use preset filters. That way you could for example choose to filter your data in specific places of your website. 
It is not possible to use preset filters in the New Google Sites because of the platform's limitations. 
1 - Example
Here is a simple example, please try reloading this page with these preset filters:
All companies that are from the United States
All companies that corresponds to the string research : "Micro"
All companies created before 1970
2 - Setting up your preset filters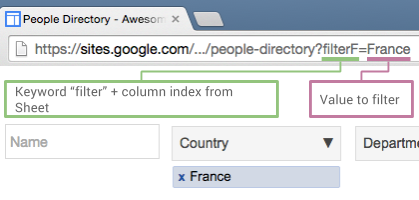 If you look at the URL of this page after reloading it with one of the link above you will notice that the structure is the following :
yourURL?filter[index of your column]=your value  // yourURL?filterB=Todo
Warning : Preset filters only work if you have a filter in your column.
Here is how to add a preset filter to every type of filter:
Filter
Value
Example
StringFilter
Content of the stringfilter (text)

Filtering for 'Yellow' in the column A :

 

?filterA=Yellow

CategoryFilter / CsvFilter
Comma separated values.

Filtering for company from Hotel or Activity :

 

?filterB=Hotel,Activity

NumberRangeFilter
Two values : start and end of the range separated by a comma.

Filtering between two numbers :

?filterM=50,70

DateFilter
Two parameters : start and end of the range separated by a comma. Dates need to be in timestamp. Use this site to convert your dates.

Filtering between 01/01/1975 and 01/01/1980 :

?filterL=157762800000,315529200000
Tip : You can have several preset filters in the same url by separating the elements with a "&".
Example : ?filterA=RED&filterV=USA