In the case of G Suite domains, we actually advise to centralize views on one generic account for easier management. If you have created a view with a gmail.com account but are using it inside the intranet of a G Suite domain, it would also be better to transfer ownership to an account on the domain.
Contractors can also use this feature to transfer the ownership to their client at the end of an intranet creation project.
In this article we will guide you through the few steps that you need in order to transfer the ownership of your view.
1 - Add the future owner as editor on your view
When you create a view, you are the only editor. You can only transfer ownership to a new editor. So first, you have to share the view edit link to the future owner:
2 - Request edit access
The future owner can open the edit link and click on the 'Request Edit Access' button in the share menu:
3 - Accept as an editor
You will receive an email from noreply@awesome-table.com. Open it and click on the button to give edit access:
You will be then redirected to the Awesome Table website and you will see a button to add as an editor: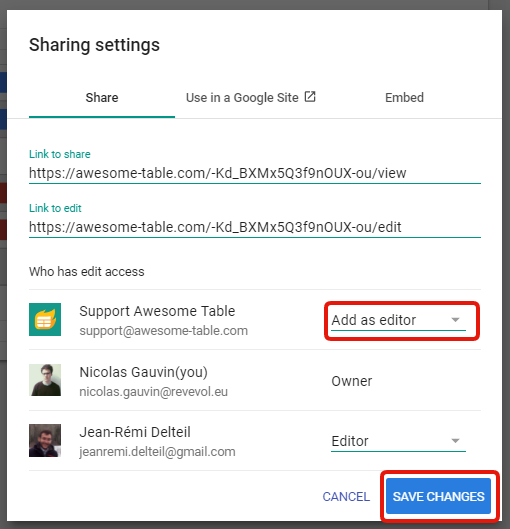 4 - Transfer the ownership of your view
 In the share menu :
Select "Owner" for the profile you want to transfer the ownership and click on Save Changes.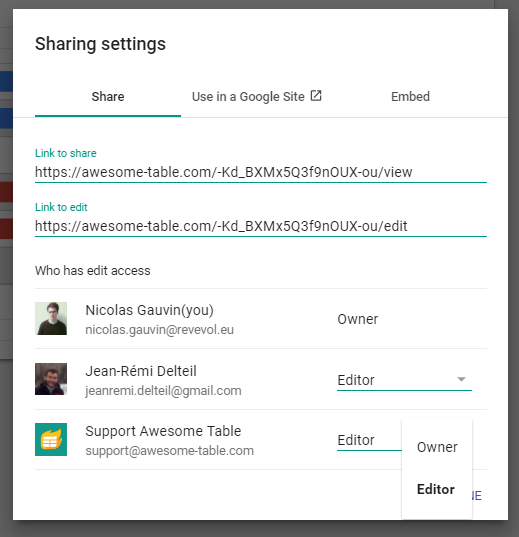 The ownership will be transferred once the editor has opened the email and accepted the ownership.