Awesome Table provides a query system to make users able to manage which data and how data are displayed.
1 - What is a query ?
Use the
Google Visualization Query Language
to show only a
specific subset of your data in the table
.
Here is a non-exhaustive list of the benefits of using a
query
:
Show only some columns 
Change the column's order
Select rows using a condition
Sort your data
Warning :
Queries will not work if you are using the
proxy feature
.
2 - How to use queries
In this example we are going to use a spreadsheet which lists colors and their nuances. We want to display only red color and gradients of red color in the Awesome Table view. If you want to do so go to the Advanced parameters -> Query when you are in the settings panel, here you can write some queries like this: select * where C = "Red".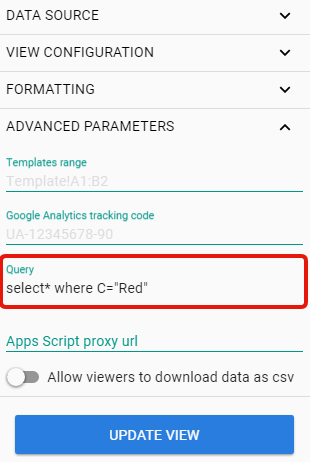 You can filter by text, dates, numbers,... Here are a few examples of queries:
| Query | Action |
| --- | --- |
| select * where L >= 50 | Select elements where the value L is superior or equal to 50. |
| select * where I contains 'Script' | Select elements where the value I contains Script. |
| select L where dateDiff(A, now()) + 30 > 0 order by A desc | Select elements where the value the date A is from less than 30 days. |
| select L where (month(now()) = month(A)) AND (year(now()) = year(A)) | Select elements the month and the year from A is the same as the current date. |
| select B,D,E,L,R | Select only the B, D, E, L, R columns and display the columns in this order. |
| select * Order by C desc | Select all columns but order them with column C. |